Things to do in Inverness this Winter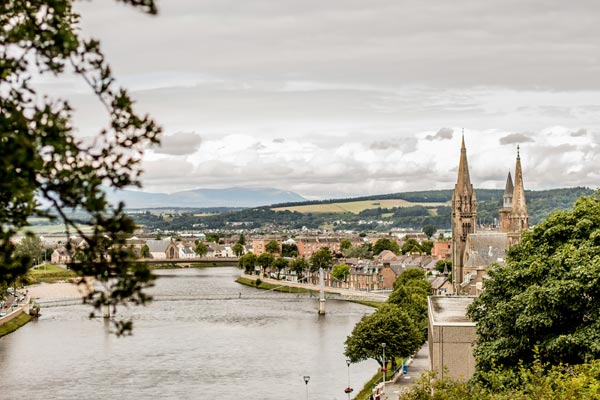 Winter is well and truly upon us, and what better time to visit Inverness than during its beautiful wintry glory? Here, you'll find snow-capped landscapes, glistening Loch Ness waters and soaring pine trees that make up the perfect winter scene. At Kingsmills Hotel, our January sale provides the perfect excuse for you to visit our historic city. So, here's our guide to things to do in Inverness this winter:
Winter Nature Walks
In the winter months, the landscapes around Inverness are covered in
a blanket of glistening snow or ice, creating a magical scene. So, wrap up warm, and take a walk around the banks of the Loch Ness, enjoying views that stretch out over the water. Or, take a short drive
to the Cairngorms National Park in the heart of the Scottish Highlands. Here, you can take a guided walk with crampons and soak up the great outdoors. You might be lucky enough to witness the majestic northern lights when night
draws in. Then, why not head to the ancient Caledonian Pine forest, and look out for wild animals like pine martin. Finally, end your day in our Kingsmills Hotel Whisky Bar, with its wide range of malt whiskies and cocktails.
Whisky Tours
One of the best things to do in Inverness this winter is to warm up than with a drop of Scotland's finest tipple. Taking a guided tour at one of our whisky distilleries will give you an insight into how our famous drink is produced. And, there will be plenty of opportunities to try a wee dram along the way. Whisky distilleries are among the best winter tourist attractions in Inverness. At Tomatin, you can fill your bottle directly from the cask, while Dalwhinnie offers a chocolate and whisky pairing experience. Then, when you've gained the knowledge, why not sample different whiskies in our pubs and bars in Inverness? At the Malt Room in central Inverness, you'll find many whiskies from Scotland and around the world. Here, you can also enjoy delicious whisky tastings in the evenings with knowledgeable staff. Don't forget to visit our very own Kingsmills Whisky Bar for a warming nightcap.
Fitness and Wellness
No start to the New Year is complete without a few resolutions vowing to take better care of your body and mind. So, why not book our special January Sale offer and treat yourself to a wellness stay in Inverness? Here, you can play golf on one of five world-class golf courses, including Inverness Golf Club, right next to Kingsmill Hotel. Then, after a day on the green, indulge in a pampering treatment at our very own Kingsclub Spa. Here, you can enjoy the Grotta Giusti Thermal Mud experience, or a relaxing and fragrant aromatherapy massage. And, don't forget our Leisure Club with modern gym and indoor heated swimming pool.
Theatre, Music and Art
If you're looking for things to do in Inverness this winter, how about a trip to our theatres, art galleries and music venues? Many pubs and bars will be hosting live music over the winter months, from soulful acoustic to hard rock. For arty Inverness upcoming events, why not visit the Laundry Gallery or North Lands Creative Glass for exhibitions? And, if you're still stuck for what to do in Inverness, why not ask our friendly reception staff for some inside knowledge? They will point you in the direction of some fantastic local sights and attractions in Inverness.
So visit Inverness this winter!
So, there's no better time to start planning your trip. There are so many great things to do in Inverness this winter! Book your stay with us today. Call us on 01463 237 166 or contact us here for more information.