Cairngorm National Park
Scotland is a country of adventure. And rest assured, from rugged coastline to mountaintop, there's something for everyone here. What's more, one of the main centres for getting into nature and exploring outdoor interests is just down the road. So it's time to get on your outdoor wear and set off to explore the Cairngorm National Park. There are so many things to do in the Cairngorms that you could spend days there, however here are a few of our favourite reasons to visit the Cairngorms.
Things to do in the Cairngorms
The Cairngorm Mountains offer some of the most spectacular and magical scenery in the UK. Located just 30 minutes from Inverness, Cairngorms National Park is home to some of Britain's highest mountains. It also has the largest unbroken stretch of native forests in the country. Making it a dream destination for anyone who loves outdoor adventures.
The national park was established in 2003 and spans 4,528 sq km of unspoilt wilderness, just waiting to be explored. Home to 25% of the UK's threatened wildlife. It's a great place to spot beautiful creatures in their natural habitat. So keep your eyes peeled for curious red squirrels and grand ospreys. The whole area is an unbeatable place for enjoying the fresh air and admiring Scottish nature.
Funicular Railway
Escape to the rugged beauty of the Scottish Highlands and experience the thrill of a lifetime on the Cairngorm Mountain Railway. This iconic funicular railway is now fully open, transporting snowsports enthusiasts to the upper slopes and non-skiers to the newly refurbished Ptarmigan building.
At over 1,097m above sea level, the Cairngorm Mountain Railway is the highest funicular railway in the UK and Scotland's only one. With a regular service running every 5-8 minutes, you'll be whisked to the top of the slopes in no time, where you'll be treated to breathtaking views and a host of exciting activities.
Once at the Top Station, you can explore the newly renovated Ptarmigan building, which boasts a range of facilities and attractions for visitors of all ages. From the panoramic views at the Ptarmigan Restaurant and the Cairngorm Gin Bar, to the immersive 270 degrees exhibition and interactive sandboxes at the Cairngorm Learning Zone, there's something for everyone here. You can also indulge in some retail therapy at The Shop at the Top, which offers a wide range of local products, clothing, and gifts.
The Cairngorm reindeer herd
It is here that you will find Britain's only free-range herd of reindeer – and what a sight they are! Reindeer have lived in the park since 1952 and there are currently around 150 in the herd.
You are welcome to visit the reindeer and can do so by taking a walk to see them on their home turf. In the mountainside, the reindeer are free to come and go as they please, and make for a fascinating watch as they get about their daily life. It's around a 30-minute walk to see them, so make sure you are dressed appropriately for the weather. These experiences last around 2 hours and are guided by an expert who will be on hand to tell you exactly who is who and what the reindeer are up to.
Booking is a must for this, as you wouldn't want to turn up and miss out. However, if you would rather take it easy, then you can visit some reindeer in a paddock. This is perhaps a better option for those with young children or who have mobility issues. You don't need to book for this, and you can get quite close to the reindeer too.
It's a wonderful experience to see the reindeer, and if you visit around Christmas time, things get rather festive! On December weekends and from 22-24th December the Paddocks are instead run as "Christmas Fun", with Santa visiting. The kids will love it!
Amazing walks near Inverness
And if you are looking for a little escapism, you have come to the right place! With walks of all abilities, and in almost every direction, the Cairngorms are a super location to escape for great walks and hikes near Inverness. Here are seven of the top walks as recommended by the Cairngorms National Park. And exploring this magical Scottish gem by foot is not only great for your fitness, but it's also therapy for your wellbeing. From spectacular views to some of our most treasured of Scottish wildlife. Here you might be in for a treat with rare sightings of an albino stag, ptarmigan, red squirrels, eagles, wild cats, and white hares.
And if it's a short walk you need, carry on further down the page to our Wild Swimming section. Here you can also read about the magical waters of An Lochan Uaine, The Green Loch. This is a lovely short walk of about 30 minutes if you are looking for a quick escape or a walk with the dog.
Cycle Tours
If walking isn't your thing, then you can choose to explore the area by bike. The park has everything from gentle family-friendly routes to thrilling mountain biking trails. Enjoy these Cairngorms cycle routes suitable for all the family. Or, visit the mountain bike centres Glenlivet Estate, Laggan Wolftrax, the Lecht., and Tarland for a range of exciting trails for different levels and abilities.
Cairngorms Attractions
And whilst you are never far from the wilderness in the Cairngorms, you are also very near to many attractions. So all the facilities you need are on hand when you need them. As such, this mountain range enjoys a number of attractions well worth a day trip from Inverness. From soft play for babies and toddlers to quad biking and pigeon shooting for adrenaline junkies. What's more, the range of activities is vast, so you'll have no problem finding things to do!
Adventure sports
Thrill-seekers can enjoy climbing, mountain biking and white water rafting in this magnificent natural setting. In the winter months, snowfall on the mountain allows for great skiing and snowboarding too.
Local heritage
The area has borne witness to many formative events in Scottish history and remains an important cultural centre to this day. The Cairngorms are dotted with ruined crofts, traditional villages, battle sites and lonely castles, all brooding under wide skies and seemingly endless expanses of moorland and forest.
Head a little further along the road to Newtonmore, where you can step back in time and experience Highland life in an open-air museum. Here, you can see how they farmed the land, feeding real chickens, milking cows, and buying sweets from the old sweetie shop. And if this isn't enough Scottish history for you, then it's time to walk the ruins of the spectacular Ruthven Barracks. These spectacular ruins can be seen as you drive north to Inverness from the central belt of Scotland and are a popular site for castle hunters.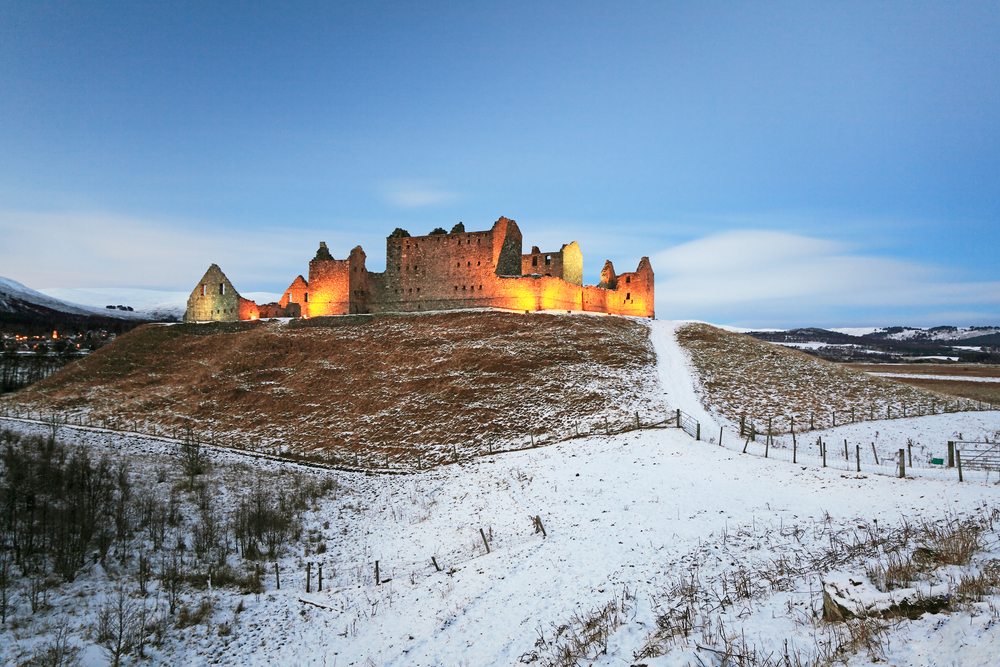 Gaze up at Dark Skies
Outdoor enthusiasts flock to the Cairngorms for fresh air and time outdoors together. But have you ever thought to visit at dusk? Escape the light pollution of the cities, to the vast open Scottish Highlands. Here, a whole new world awaits! So wrap up warm, get outdoors and sit back to gaze up to the skies. And here you will not only enjoy stars but planets and meteors too. And maybe even the spectacular Northern Lights (or Aurora) in the Winter months!
The Cairngorm night skies are remarkably darker than in most locations, being far away from any artificial light. This opens up an entire universe for kids of all ages to explore. And whilst a telescope is useful, all you really need are your eyes!
Award WinningParts of the Cairngorms have been awarded the title of International Dark Sky Park. This means they are amongst the best in the world for astronomers to gaze up and see everything from Venus to the northern lights. There are events planned throughout the year where you can go and learn some more about the night sky.
Wild Swimming
And if you are more of a water baby than a stargazer, then take to the waters of the An Lochan Uaine, known as "The Green Loch" for some magical wild swimming near Inverness. A short 30-minute walk from Glenmore brings you to the magical greeny-blue waters of An Lochan Uaine. It's much warmer and safer to wild swim than Loch Ness, but be sure to follow the wild swimming guides.
Gruffalos and Fairies
And it's perfect for family walks too if you aren't coming for a swim! And there are plenty of stories to tell and things to look out for with your mini explorers. See if they can find the Gruffalo in the woods en route. And search for red squirrels and birds. Can you mimic their sounds? And when you arrive at An Lochan Uaine, The Green Loch, be sure to look out for the fairies. Yes, it's said the magical green colours of the waters are from the fairies washing their clothes. And if you are visiting in winter, it's just as magical then! With its frozen waters and a dusting of snow, the green pines light up the sides of the waters like a fairy tail.
Steam Railway
As if that's not enough storytime, steam on to watch the old steam train pass through Boat of Garten. This little village enjoys timed passings, where you can channel your inner Railway Children adventures. So check the timetable and be sure to stand on the bridge as the train passes underneath. The noise along is spectacular! Yes, this old train is so loud, you can hear it throughout Strathspey when it travels from Aviemore to Broomhill.
Beer and whisky
The area is home to a number of breweries and distilleries. To the south-west of Inverness, visitors will find the Cairngorm Brewery and Dalwhinnie Distillery. To the north, the Glenlivet and Tomintoul Distillery await you, and to the south-east, Royal Lochnagar. All the distilleries feature visitor centres and offer tours of their facilities where you can sample a few of their products – and maybe bring a bottle or two home with you. However, it is advisable to call up in advance to ensure they will be running on the dates you plan to visit.
Enjoying the Cairngorms
Whatever your love, there are plenty of reasons to visit and so many things to do in the Cairngorms that you are bound to enjoy yourself. So next time you stay with us at Kingsmills, be sure to arrange a visit and experience the wonder of the Cairngorm National Park. Then when you get back at the end of a busy day (or night) exploring, you can always unwind in our leisure club or have a drink at our whisky bar.
Enjoy the great outdoors
Turn your holiday at The Kingsmills Hotel into an exhilarating outdoor adventure. Give us a call on +44 (0) 1463 257 100 or get in touch below for more information on things to do in Inverness.
Contact us