Our Dog-Friendly Hotel Rooms
Dog-Friendly Rooms
Description
The Kingsmills is a dog-friendly hotel in Inverness. We offer a variety of ground-floor rooms that you, your family and your dog can enjoy on your holiday. You'll find a lovely calm and tranquil area that you can relax in peace.
Car Charging
Complimentary Tea and Coffee
Direct Access to Garden
Dog Friendly
Free Wifi
Safe
Television
SPACIOUS DOG FRIENDLY ACCOMMODATION
Here at Kingsmills, we believe that every member of the family should be able to enjoy their holidays in Scotland – including your dog! We are a dog friendly hotel in Inverness and welcome well-behaved dogs here for a pawfect break.
GARDEN-ACCESSIBLE ROOMS
Choose from our patio rooms or garden rooms if you are planning to bring your dog. These rooms all sit on the ground floor, and offer easy access to outdoor space. Every dog can be assured of having a woof over their head at Kingsmills. Please note that your dog won't be allowed into our bar or restaurant area. We also charge an additional £20 per dog for additional cleaning.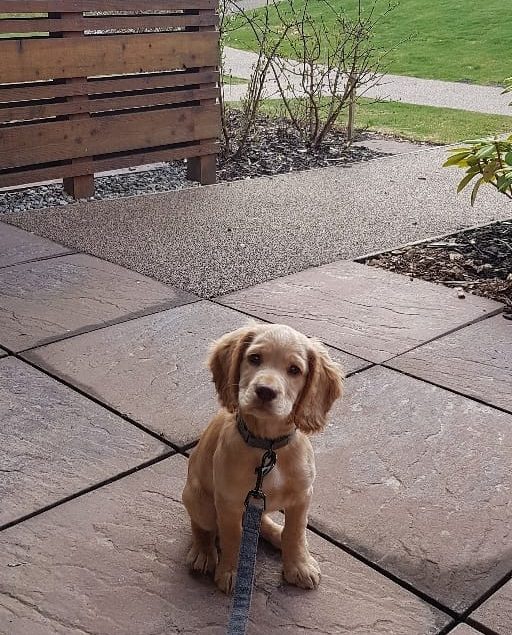 Pamper yourself too
This holiday isn't just about Fido though! Whilst he's out playing on the beach with the family, why not treat yourself to a little additional Ness Walk luxury?
When staying with us, you'll have access to the Kingsclub Spa and Leisure Club. There are also additional amenities you can order, which you can do so when you book, or speak to our friendly reception staff.
Tranquillity Pro-Sleep Massage
Back, Neck & Shoulder Massage at The Kingsmills Spa
Enjoy a leisurely morning with a Late Check Out – £10 per hour until 3 pm
Dog-friendly Inverness
If you are needing dog-friendly accommodation in Inverness, then sniff out our large range of rooms to choose from. Once here, you will find so many things to do in and around Inverness that you will love bringing your dog here. And your dog will love you from bringing him! We have miles of beaches, acres of countryside and miles of mountainous walks. Your dog will have the best time!
The River Ness runs through the centre of Inverness. It makes for a lovely walk if you want to stay in the city. Hop along to the Ness Islands for some lovely walks in what can feel like a secluded park, but is in the city centre!
A trip to Loch Ness is always a good idea, of course. There are plenty of beaches for your dog to run around on. The Scottish water is clean and super for going for a swim. And you never know, perhaps your dog will sniff out the loch's reclusive resident…?
Inverness itself is a very friendly city for dogs. There are loads of pubs, cafes and shops that welcome dogs throughout the year. You can be sure that if you need to buy some shoes, stock up on outdoor gear or have a meal, your dog will be welcomed.
DOGS WELCOME
As a dog friendly hotel in Scotland, we can offer guidance on the best places to take your dog on holiday here. Just ask at reception!
Take a look at our blog for some great ideas on where to go. Scotland is dog friendly, and so are we! Kingsmills Hotel a dog-friendly hotel in Inverness, we look forward to your visit and welcome the whole family – especially those with four legs!