The Kingsmills Whisky Bar
The Whisky Bar
COME AND ENJOY ONE OF SCOTLAND'S WORLD FAMOUS SINGLE MALT WHISKIES AT THE KINGSMILLS' WHISKY BAR IN INVERNESS.
Scotch whisky is arguably the country's most famous export and one that can be enjoyed all over the world. However, we believe that our malt whisky tastes best when experienced right here in the place it was created. Inverness is at the heart of Scottish whisky country. Situated on the edge of the 'Highland whisky region', we are also within easy distance of the vibrant Speyside area with its old distilleries and historic whisky traditions.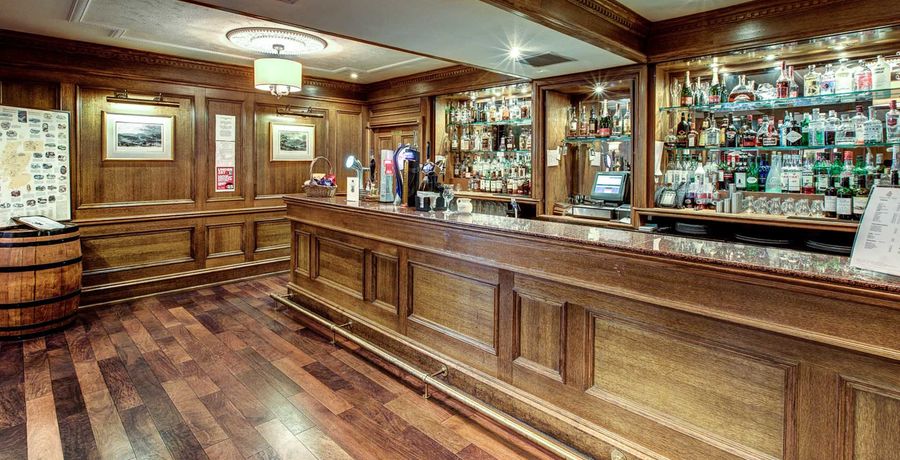 Our Whisky Bar in Inverness
Do you fancy a strongly peated whisky from the Isle of Islay? Taste the salty, earthy flavours of the Island style, sip a light grassy Lowland Whisky or take a trip around with the many Highland and Speyside whisky styles to enjoy. The choice is yours here at The Kingsmills Hotel. We also offer a comprehensive list of cocktails to suit each and every guest.
From day till night The Kingsmills Whisky Bar emotes a relaxing yet energetic atmosphere. With an extensive range of drinks accompanied by a selection of delicate light bites, it's the perfect location to get the conversation flowing with family and friends.
Whisky Flights Experience
Join us for an adventure into the famous single malt. Our in-house whisky connoisseurs have created a collection of whisky flights, each with their own story to tell and a celebration of the 'water of life'. Whether you're a newbie interested in learning the basics of whisky or a seasoned veteran looking to experience the best malts Scotland has to offer. This experience is not to be missed and sure to be a highlight of any visit.
Choose from a selection of four curated malts and our experienced bar team will provide tasting notes to accompany your drams. Relax and enjoy your self-guided whisky tasting at your own pace as you discover the relationship between distillery, barrel, age and flavour.
Book your Whisky Flights Experience
Our whisky flight experience is available each day from 5-8pm Sunday – Thursday and can be booked online below. If this experience is available, the option of 'Whisky Flight Experience' will show.
Bookings for parties of 9+ can be booked by calling us directly on 01463 237166.
Come join us for a dram
Have any questions about our selection of fine malt whiskies or cocktails or want to organise your own private tasting session? Call The Kingsmills Whisky Bar on 01463 257 102 or get in touch below.
Get in touch