Accessibility
Kingsmills Hotel Access Statement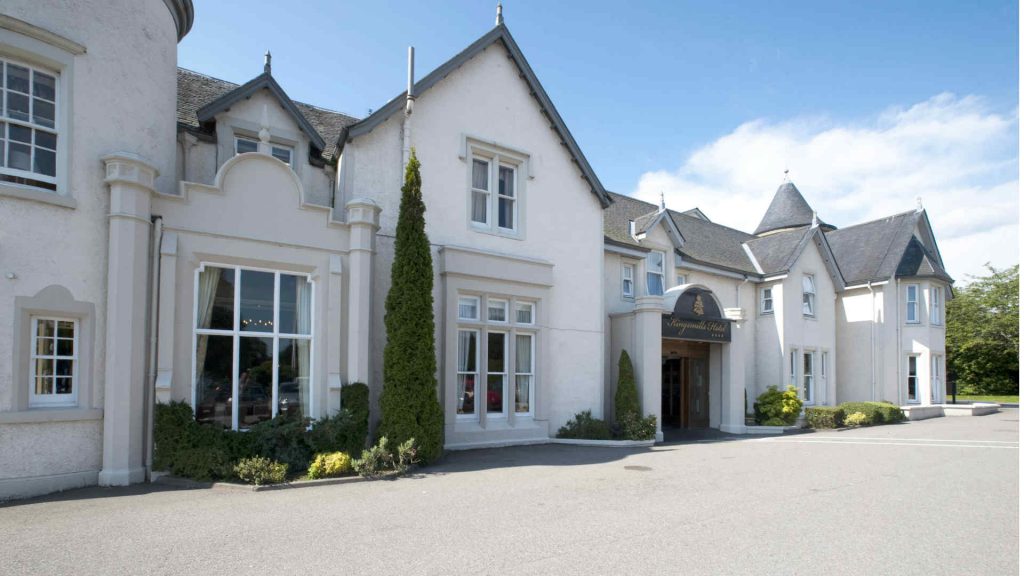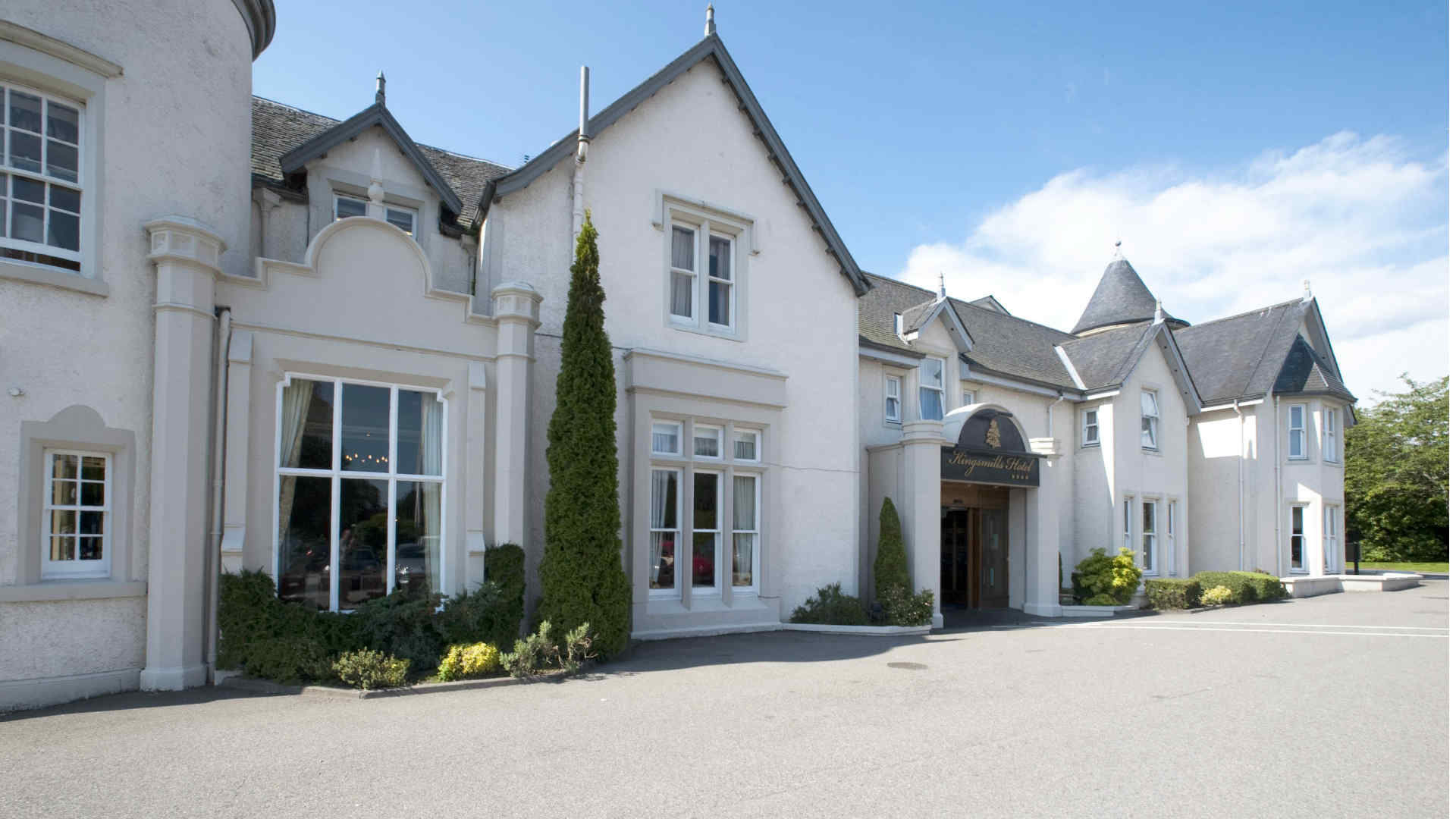 Welcome to The Kingsmills! Our luxury 4-star hotel, set within acres of manicured grounds. Offering the perfect blend of historic tradition, contemporary design and passionate service. Originally built in 1785, our hotel is situated 1 mile from the city centre with plenty of complimentary onsite parking. We have 147 bedrooms, of which, 5 are accessible rooms – 4 on the ground floor and 1 that requires access via an elevator. All rooms are step-free with accessible bathrooms. All bedrooms have safety pull cords, handrails, and 2 have wet room facilities with low level wash basins. We offer a leisure club, beauty spa and nail bar, hairdresser, choice of restaurants and lounge bar.
Below you will find detailed information on accessibility within our hotel. We have aimed to describe the facilities and services that we offer accurately, without personal opinion. But if you have any specific questions, or require any assistance at all, please don't hesitate to call us on 01463 237 166 or get in touch here. We look forward to welcoming you!
Getting Here
The Kingsmills Hotel is located on Culcabock Road, Inverness, IV2 3LP, not far from the city centre.
Inverness railway station is one mile away and takes about 10 minutes in a taxi.
The Number 4 bus stops near the hotel, just ask for Kingsmills Road. There is a slight hill from the bus stop.
Inverness airport is 15 minutes away by taxi.
Inverness taxis are available on 01463 222 222.
Please see our contact page for more information on getting here.
Car Parking and Arrival
We have 150 complimentary car parking spaces, including accessible, and 4 EV charging points.
The car park is tarmac surface, floodlit and all on one level.
The entrance to the hotel has a canopy, which is lit and all on one level.
Main Entrance, Reception and Welcome Area
Reception is on the ground floor and has level access throughout.
The floor surface is carpet and tiles.
The area is well lit with overhead lighting and lamps.
There is a hearing loop installed in reception.
The reception is manned 24 hours a day.
A magnifying glass, pen and paper is available.
There is a wide choice of comfortable seating in reception which you are welcome to use during check in procedure.
All of the above also applies to our Kingsclub, which is our exclusive wing set within the grounds, and is also directly accessible from the car park.
Bedrooms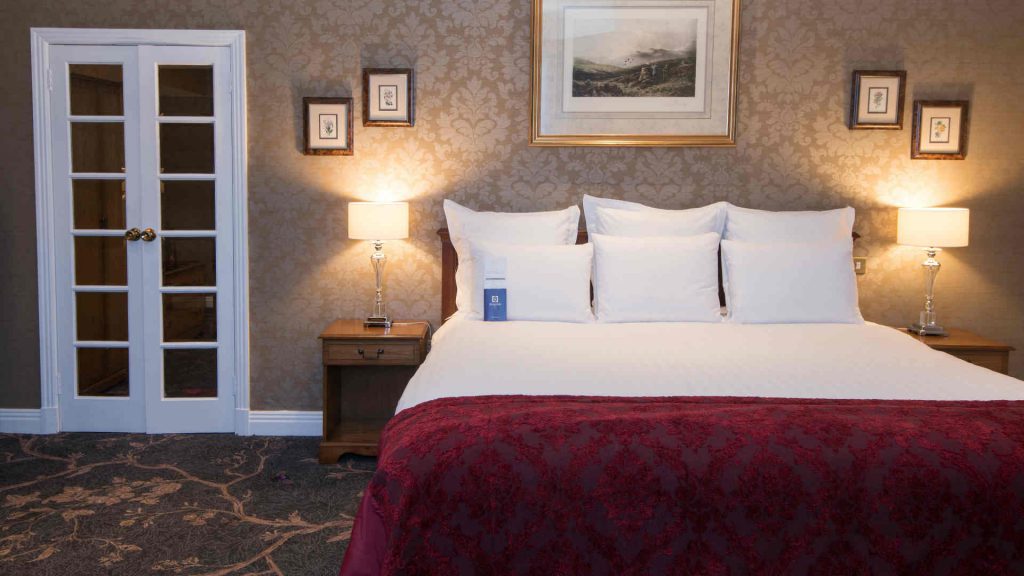 We have 4 accessible rooms in total in the Kingsmills Hotel, and 1 accessible room in our Kingsclub and Spa (exclusive rooms set within the grounds).
Entry doors in the Kingsmills Hotel are 900 mm and in the Kingsclub 875 mm.
We can move some items of furniture on request.
Twin beds are available in some of our accessible rooms.
Clear space next to the bed in Kingsmills Hotel is 1700 mm in The Kingsclub 1260 mm.
The height to the top of the mattress in the Kingsmills Hotel is 660 mm and 670 mm in the Kingsclub.
We have additional lamps, available on request.
Low hanging wardrobe rails are available in the accessible rooms, along with non-feather bedding.
Rooms are fitted with visual alerts in case of emergency.
Assistance dogs are welcome in accessible rooms. We will provide them with water bowls, doggy snacks and poop-bags.
Bathrooms, Shower-rooms and Toilets
All bedrooms are ensuite with a clear door space of 885 mm in the Kingsmills Hotel and 880 mm in the Kingsclub.
The wash basins are 725 mm in height in the Kingsmills Hotel and 740 mm in the Kingsclub.
The WC sit at a height from the floor of 495 mm in the Kingsmills Hotel and 490 mm in the Kingsclub.
There is a clear space under the wash basin.
In the Kingsmills Hotel there are 2 adjustable grab rails at the WC, 2 at the wash basin and 4 in the shower along with a shower seat.
In the Kingsclub there are 2 grab rails at the WC, 2 at the wash basin and 1 in the shower along with a shower seat.
All wash basins have lever taps.
Public Areas – Halls, Stairs, Landings and Corridors
All public areas are wide and well lit with a combination of overhead and wall lights.
Corridors are 2310 mm wide in the Kingsmills Hotel and 3270 mm wide in The Kingsclub.
We have 3 elevators throughout the hotel and all have audio support.
There is a refuge area at the end of the corridors on the luxury wing. However, reception maintains a list of all guests who may require assistance, and staff are immediately dispatched to assist on alarm sounding.
Public Areas – Lounges and Lobbies
The lounge area is a very welcoming space with comfortable sofas and chairs. It is on the ground floor with level access from reception.
The width of door into the lounge from reception is 1180 mm and the accessible WC is 30m from the lounge.
There are 3 steps from the lounge into our Conservatory Restaurant.
Lighting is a mixture of natural day light and lamps and wall lights and overhead lights.
The floor is carpeted.
Table service from the bar is available.
Restaurant/Dining Room, Bar & Bar Area
We have 2 restaurants in the hotel; The Conservatory Restaurant and The Inglis Restaurant.
The entrance to the Conservatory and the Inglis is 1600 mm. There are 3 steps down to the Conservatory Restaurant and can be accessed using a portable ramp which staff are fully trained in using. The Inglis access is on the level and within the Inglis there are 2 steps up to the bay window area but majority of tables are on the level.
The Inglis Restaurant is carpeted and the Conservatory is a wooden floor.
Tables have a clear space underneath of 750 mm.
Staff are more than happy to assist with reading of menus.
Distance to the accessible WC is 44 m from the Conservatory and 52 m from The Inglis.
Both restaurants are table service for lunch and dinner.
Breakfast is normally buffet service, but our staff will happily serve you at your table.
We can accommodate dietary requirements in all areas of food service throughout the hotel.
Public Toilets
Public and accessible toilets can be found on the ground level with level access from the reception, lounge, restaurants, bar and meeting rooms.
Accessible toilets are fitted with alarm pull cords.
Entrance to public toilets are 910 mm and cubicles entrance is 645 mm with a clear space around the WC of 1600 mm x 1400 mm.
The WC sits at a height of 490 mm with grab rails on the left hand side.
Wash basins have lever taps.
Leisure Facilities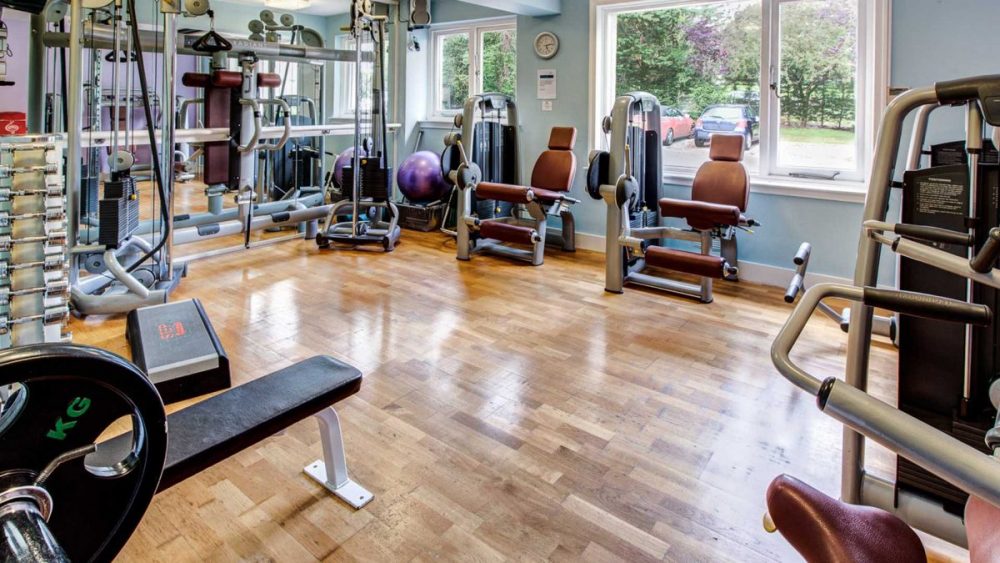 Leisure facilities comprise of gym, steam room, Jacuzzi and swimming pool.
The leisure club is on the ground level of the hotel.
There are 3 steps into the Jacuzzi and 3 steps into the pool.
The width of doors into the pool is 840 mm and 770 mm into changing areas with an entrance of 880 mm into the gym.
There is an accessible changing area on the level at reception with pull cords.
Reception of the leisure club is manned by trained assistants.
Grounds and Gardens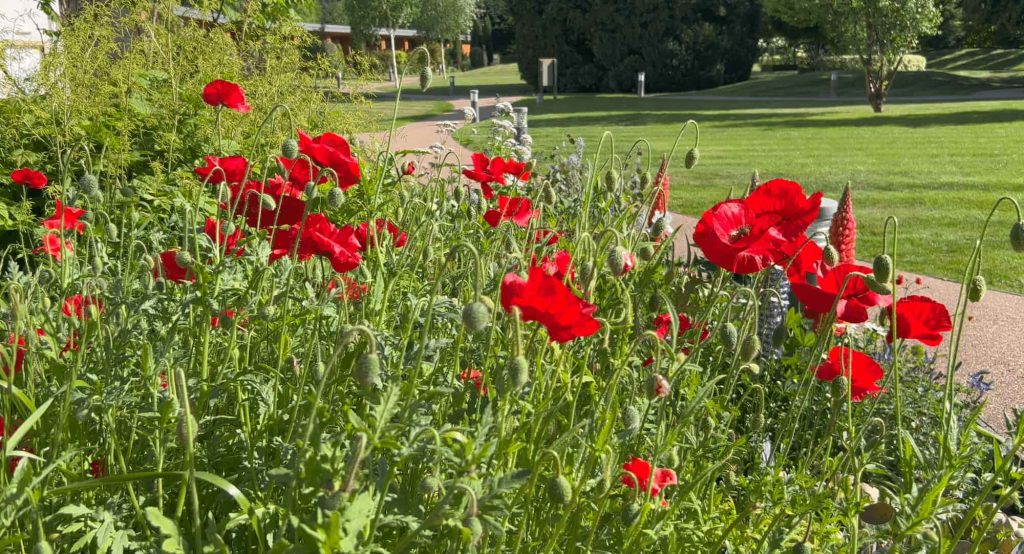 We have 4 acres of grounds with grass lawns, trees and flower beds.
There is a terrace outside the Conservatory Restaurant and also outside the leisure club, with views of the garden.
Treatment Rooms
Our Spa is on -1 level in the Kingsclub and Spa with an elevator access.
The spa is all on a level with wooden floors.
Door width is 880 mm into the spa, nail bar and treatment rooms.
There is a relaxation area with 4 low sofas to enjoy.
Nearest accessible WC is 12 m to elevator and up one level then 4 m to WC.
Conference and Meeting Rooms
We have 3 meeting rooms just off reception on the ground floor and all are level, with an additional 4 rooms in our Kingsmills Suite. The suite has 5 steps down and is accessible by elevator.
Door width to the Kingsmills Suite is 1760 mm, to the Adams Room and Burns room is 1500 mm and to the Macleod is 870 mm
The Kingsmills Suite has a hearing loop.
Tables are 695 mm in height.
The distance to nearest accessible WC from the Kingsmills Suite is 9 m and 40 m in all other meeting rooms.
Reviews
We work with several trusted partners for reviews of our accessible facilities. Visit Euan's Guide for an in-depth guide and reviews and Accessable.co.uk for further information.
Further Info and Local Resources
Our address is: The Kingsmills Hotel, Culcabock Road, Inverness, IV2 3LP.
Our grid reference: Easting267468 Northing844606.
Our telephone number is: 01463 237166 and you can contact us here by email.
All Kingsmills staff are trained to assist guests with disabilities.
We operate 24 hours a day.
Mobility repairs are available from Able Care on 01463 233900, Seafield Road, Inverness.
Shopmobility Highland at Eastgate Shopping Centre provides mobility help to access shops. Contact them on 01463 717624.
Raigmore Hospital is a short distance from the hotel down a slight incline.
The Stagecoach no 4 bus goes into the city centre from Kingsmills Road and Inverness taxis are available on 01463 222 222.