Keeping The Wee Ones Entertained: Fun Things To Do With Kids In Inverness
Whether you're heading to the Highlands for a half term break, or setting out on a much-needed family vacation, there are always loads of fun things to do with kids in Inverness. From bug hunts and wildlife parks to kids attractions and family activities, make the most of family holidays in Inverness with the Kingsmills Hotel.
Walk The Ness Islands Walk
Searching for bugs and exploring new trails is a great way to keep the wee ones entertained for hours. So grab your wellies, pack your camera and head to Ness Islands. The Ness Islands are a fabulous group of Islands tethered together by a network of old Victorian suspension bridges, like one giant adventure puzzle slap bang in the middle of the River Ness. Suitable for all ages (and dare we say it, all fitness levels), a walk around Ness Islands will take you on a scenic journey of breath-taking views and Highland wilderness amidst the bustling Inverness city. Then it's just a hop, skip and a jump to Whin Park and the Ness Islands Railway where the adventure continues.
Win The Day At Whin Park
With 4 separate outdoor areas, a boating pond, not to mention slides, swings, rope climbs and zip lines, Whin Park is the largest outdoor park and free children's play area in Inverness. Ideal for big kids and little kids alike, paddling across the boating pond or enjoying ice creams in the park when the sun is out is the perfect way to enjoy precious moments as a family.
All Aboard The Ness Island Express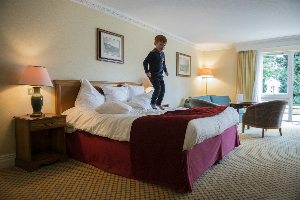 By now, you are well on track to having the best family holiday in Inverness. All that's left is to hop on-board the Ness Islands Express. This picturesque miniature railway will take you on a half-mile train ride through Whin Park. An open-to-the-elements expedition on a miniature locomotive means weather-appropriate clothes are necessary. And if your kids have ants in their pants, we would recommend waiting until they are just a wee bit older before venturing out with Ness Islands Railways.
So there you have it. Three fun things to do with kids in Inverness in a fun-tastic family day out. Once the kids are all tuckered out, tuck them in for the night in one of our Family Rooms before enjoying a delicious glass of wine or wee dram from the Kingsmills Bar. Go on. You deserve it.