Dolphin Spirit Boat Tours
Dolphin Spirit Boat Tours
Dolphin tours in Inverness
When you visit Inverness why don't you take advantage of a fabulous opportunity to explore some of our local aquatic wildlife? With Dolphin Spirit, which offers dolphin tours in Inverness, you can cruise the Moray Firth and Moray Coast. And along the way, the hope is to encounter some of these enchanting and gentle creatures. These cruises offer an exciting and unique experience that you can tell all your friends about when you get home. So it is well worth experiencing one!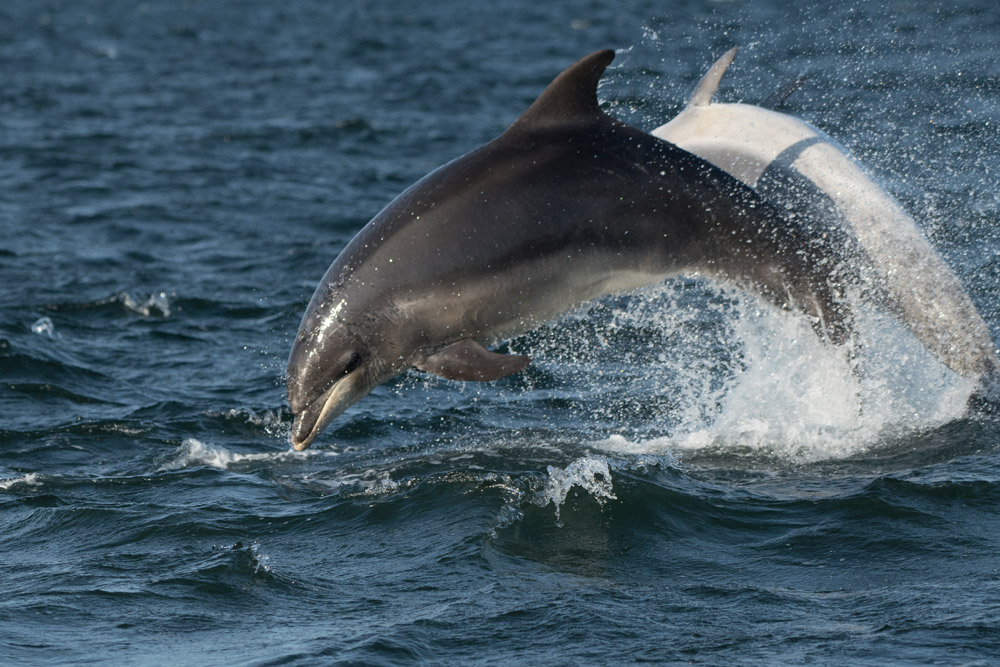 The Moray Firth and Inverness Dolphins Cruise
Here you can embark on a 75-minute family-friendly cruise that sees you explore the inner Moray Firth. Travelling up the Beauly Firth you will head in the direction of the famous Caledonian Canal. From here you will explore the Inverness Firth ducking under the Kessock bridge, ending up at Mulnlochy Bay. And all of this is in the hope of catching sight of some of these friendly, finned mammals – the Bottlenosed dolphin. As you cruise along you will learn about dolphins as well as other wildlife with one of the knowledgeable guides on board. Furthermore, to enchant you, you will hear some fascinating local folklore. Be sure to keep your eye out for other creatures too such as the harbour porpoise, seals, otters, an array of birdlife and even possibly a whale!
Moray Coast Dolphin Cruise
Maybe you fancy something a little more exhilarating. In which case this cruise is for you! Here you will board a rib boat and travel at speed! It is good advice to wrap up warm to keep you comfortable during the ride. It can get much cooler out at sea not to mention wet! Gloves, waterproof footwear and a warm hat are recommended for this dolphin boat trip in Inverness. Additional waterproof clothing and a life jacket are provided by Dolphin Spirit to keep you dry. Once aboard the adrenaline will pump as you look out for those dolphins and other local wildlife!
Bottlenose dolphins and local wildlife
The bottlenose dolphins live in 'pods' which is groups of anywhere between 10 to 30 individuals. Although this is a dolphin tour it cannot be guaranteed you will spot them. However, given how active they are in this area the hope is you will get a sighting. With so much other wildlife you may spot some other delights along the way. And you are guaranteed spectacular scenery and an exhilarating experience.
Book a stay with us
Why not book a stay with us at our fabulous 4-star hotel! After your dolphin cruise in Inverness ends, head back for a warm shower and enjoy a nice meal with us. Or take to the water again and enjoy a dip in our pool. Our family-friendly rooms offer plenty of space for you to enjoy a relaxing stay. All you need to do is pick some dates and get a booking!
Enjoy a family break in Inverness
Stay in one of our Family Rooms at the Kingsmills Hotel for the ultimate family break in Inverness. We offer a choice of family-friendly hotel rooms, sleeping up to 2 adults and 4 children, so you'll have all the space you need to spread out and relax.
Explore Family Rooms