3 Ways To Stay Cool This Summer: Summer Activities In Inverness
Spring has sprung and summer is in the air. And while Scotland may not be known for its sunny weather, here in the Highlands things really heat up in the summer months. With fabulous festivals, amazing activities, sensational attractions and an endless supply of things to do for the whole family, there is no place better than summer in Inverness. So to help you keep a cool head this summer, we're counting down our favourite summer activities in Inverness.
1. Inverness Festivals And Events This Summer
Where better to watch the world famous Highland Games than right here in the Highland capital? Or enjoy the musical stylings of over 90 acts across 5 different stages in a 3-day family-friendly event in one of the most beautiful parts of the world. From the Northern Roots Festival and the Inverness Highland Games, to the Belladrum Tartan Heart Festival and Highland Military Tattoo, the incredible line up of festivals and events will give you the hots for Inverness this summer for sure.
2. Zorbing On Loch Ness: Summer Activities In Inverness With A Difference
From rocking in the Highlands to rolling along Loch Ness, this summer have a ball on one of Scotland's most famous Lochs with this ballsy new way to cruise Loch Ness. Forget long, leisurely boat trips admiring the Highland scenery. Get up close and personal with Nessies' watery abode with a ripping, rolling, tumbling outdoor adventure. Perfect for anyone over the age of 4, Zorbing on Loch Ness is a summer must activity. Climb inside an inflatable ball, step (ahem, more like roll) out onto the mighty Loch Ness and enjoy all the splendour of the Scottish Highlands from a fresh new perspective.
3. Chilling Out Poolside: The Ultimate Summer Indulgence!
Let's face it. After long sunny days visiting the many wonderful Inverness attractions, exploring Ness Islands with the kids, searching for Nessie, rocking along at Belladrum or rolling (a.k.a. Zorbing) along Loch Ness, nothing beats lounging aside a spectacular pool being waited on hand and foot. If that sounds like the perfect way to keep cool this summer, make your way to the Kingsmills Leisure Club for some extra summer R&R and a day full of refreshing drinks and nibbles poolside.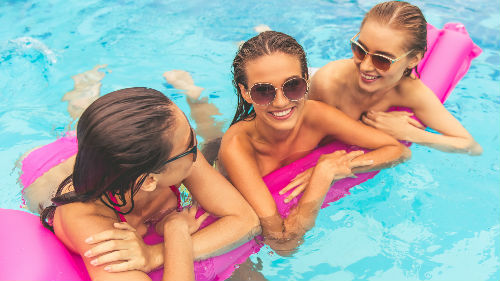 So there you have it. Three red-hot summer activities in Inverness to keep you cool, calm and entertained this summer.