Golfing
There's a reason our country has so many magnificent championship courses. The modern game of golf originated in Scotland during the middle ages. By the 18th century, the game was a national craze, played in much the same format as today. By the 19th century, our intrepid explorers and merchants had spread the 'great game' across the world, making golf one of our most famous exports. And today, visitors flock to Scotland for their golf holidays.
Golf Holidays in Inverness
The Scottish Highlands are rich in world-class courses that attract many avid golf fans each year. A number of these Scottish golf courses were first established in the 19th century and retain much of their Victorian charm and elegance. Join us for a golf break in Inverness to tick all these courses off your golfing "bucket list." Our dedicated Golf Co-ordinator is on hand to help you set up the ideal golf itinerary for the break of a lifetime.
OUR LOCAL SCOTTISH GOLF COURSES
We have several local golf clubs within easy reach of our hotel, all of which are exquisite courses that attract a number of international visitors each year.
INVERNESS GOLF COURSE
Located next door to The Kingsmills Hotel, this impressive course plays through manicured greens with a mixture of challenging holes. Passing our executive Kingsclub building at the 10th, our Retreat Rooms offer stunning views over this parkland course. Independently owned and operated from the hotel, Inverness Golf Club is a lovely course with a mixture of challenging holes and the Mill Burn which runs through features on several of the holes.
Opened in 1883, Inverness Golf Club now sits in the heart of Inverness. A splendid parkland course with tree lined fairways, this course weaves its way through well-manicured greens. The course was designed by George Smith and JJ Fraser and later, alterations were made by renowned designer James Braid; an Open Champion.
ROYAL DORNOCH
One of the greatest golf courses in the world. Golf in Dornoch can be traced as far back as 1616, but the official Royal Dornoch Golf Links was founded in 1877. For over a century, this championship course has long exceeded players' expectations at every term.
Combining first-class quality with the abundant natural resources of the Scottish Highlands, the spellbinding setting of this natural links never disappoints. It is why the Royal Dornoch has secured a top spot on many golfers "to play" lists. Contact us to discuss booking a golf break at Kingsmills along with reservations on this course.
CASTLE STUART GOLF LINKS
This championship course needs little introduction – Castle Stuart Golf Links. Now part of Cabot Highlands, the course that would host the Scottish Open several times, was still just a working farm in 2002. Today, it is one of the best-loved golf courses near Inverness and a beacon to golfers around the world. Every aspect of the course's design delights, engages and amazes amateurs and professionals alike.
There are holes that tee off from aside the sea, holes that sit atop an old sea cliff and holes that share stunning panoramic views of the surrounding Highlands. And while the views are impressive, the actual course is even more so.
NAIRN GOLF CLUB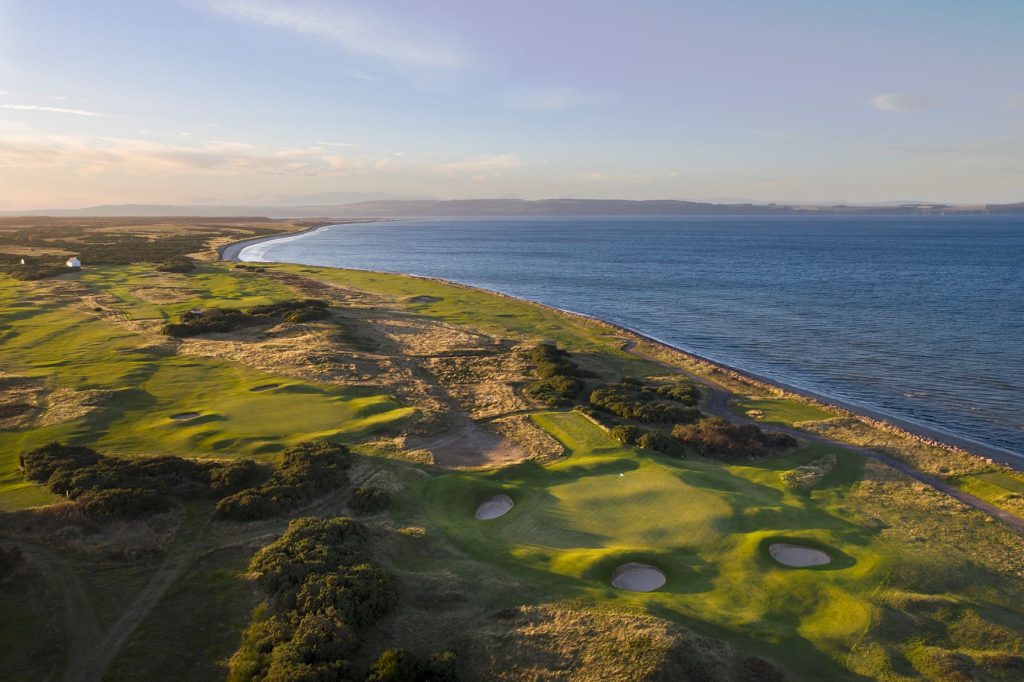 Nairn Golf Club was founded in 1887, inspired by the surrounding Highland wilderness. Nestling on the shores of the Moray Firth, it hugs the rugged coast of Moray Firth for the first seven holes, before turning inland to test the talents of professionals and amateurs alike against the natural Scottish elements.
Steeped in history and splendour, it is one of the most exclusive golf courses in the Inverness area.
KINGSMILLS, THE HOME OF GOLF BREAKS
All three of these exceptional courses, together with the Kingsmills Hotel, form part of the Highland Golf Links. Which means bunkering down in style and luxury before teeing off on a championship course has never been easier.
So, to book a bespoke golf break and put these courses to the test, contact us today.