Winter views of the Scottish Highlands
Picture-perfect views of the Highlands in winter, Scotland
The Highlands is a vast area, which stretches from the Highland boundary faultline to the northwest tip of Scotland. At its heart is the city of Inverness and our luxury hotel, The Kingsmills. Here, we are surrounded by beauty. This magnificent region is consistently voted as one of the most beautiful places in the world! And we understand why. From our lochs, rivers, glens and mountains, to our historic landmarks and picturesque towns, there is so much to discover in the Scottish Highlands. And winter just happens to be one of our favourite seasons. So, here are some of our favourite Highland scenes to give you a taste of Scotland in winter.
Inverness Castle
Firstly, we've chosen this winter picture of Inverness Castle, not far from our hotel. This stunning view across the river changes with the seasons and is always beautiful. Inverness Castle is currently undergoing a transformation, and we can't wait to experience it when it reopens in 2025!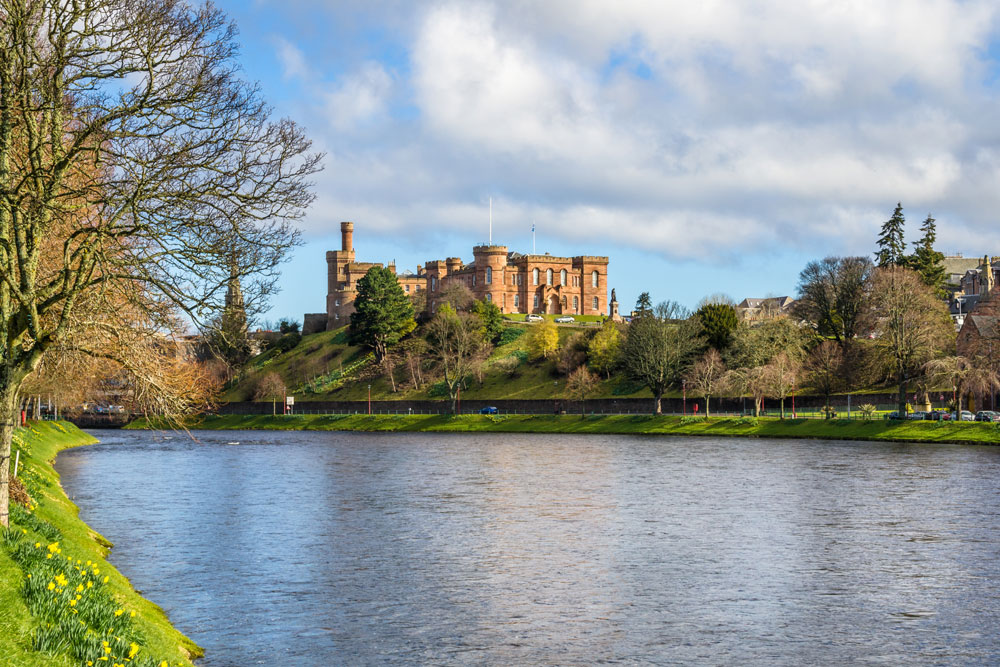 Loch Ness
This is the legendary Loch Ness on a very snowy day. It paints a dramatic picture of this famous Scottish loch, where a serpentine creature is said to lurk in the depths. It is only a 15-minute drive from Inverness to the northern tip of Loch Ness, and it takes around 2.5 hours to drive around the whole loch. There is plenty to see around its shores, and on the loch by boat.
Clava Cairns
This is a beautiful view of the winter sun shining over the Clava Cairns. This ancient burial ground, 6 miles outside of Inverness, is one of the oldest prehistoric sites in Scotland, dating back around 4000 years. Visit on the Winter Solstice (21st / 22nd December) to see the setting sun align with the cairns – a truly amazing sight!
Glen Affric
West of Loch Ness, and around an hour's drive from Inverness, the magnificent Glen Affric is a glorious nature reserve and area of scenic beauty. This Inverness to Glen Affric road trip takes in many of its highlights, from ancient ruins to towering waterfalls.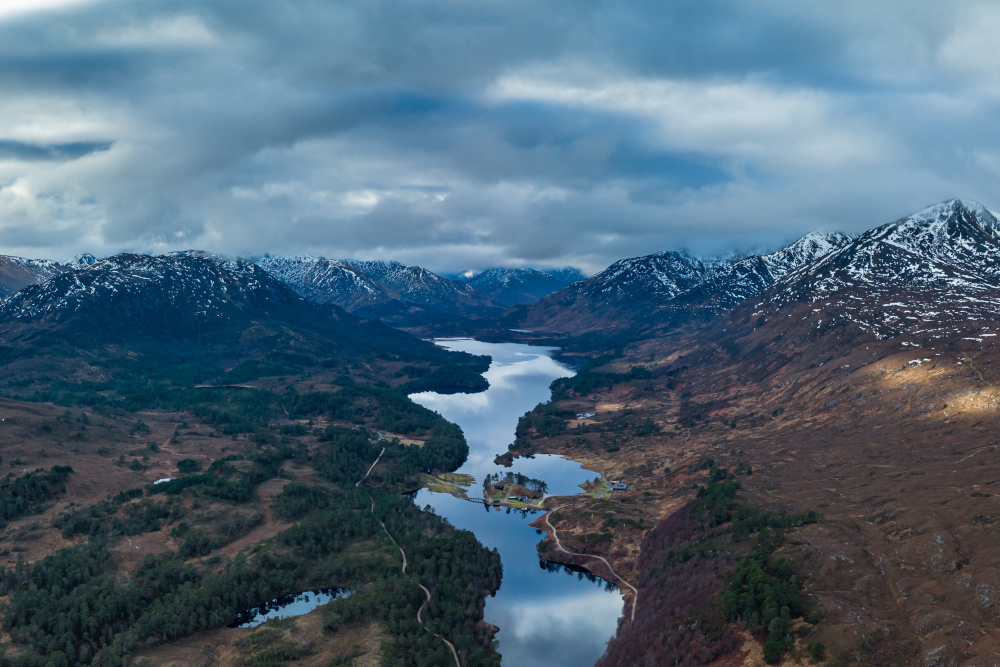 Ullapool
Around 57 miles northwest of Inverness, Ullapool is a pretty Highland fishing town, just over an hour's drive from here and great for a day trip. This picture shows a row of houses on the shore, dusted with snow.
Eilean Donan Castle
Eilean Donan Castle is one of the most famous castles in Scotland. Less than 2 hours from Inverness, the romantic castle sits on its own little island, connected to the mainland via a footbridge. The castle is closed on some dates in winter, but it is still worth a stop in the village of Dornie to enjoy the spectacular views.
Glen Coe
82 miles southwest of Inverness, you might pass through Glen Coe on your way up here, if driving along the west coast. This southern part of the Highlands is famously beautiful all year round. This aerial winter view shows the glen, surrounded by snow-covered mountains.
No picture can fully reflect the beauty of the Scottish Highlands. You have to see it, feel it and experience it for yourself! Come to Scotland this winter and take it all in. The Highlands is surprisingly easy to access in the winter. If you base yourself in Inverness, you easily get here by car, train or plane. So, book your stay at the Kingsmills Hotel today and discover the Highlands in all its winter glory.