The Adams Room for small intimate weddings
Adams Room
Intimate Wedding Venue Inverness
If you're looking for a small, intimate space to celebrate your wedding, then our historic Adams Room may be the venue for you. Seating up to 30 for a ceremony or 22 for a wedding breakfast, this cosy room is one of the oldest in our hotel. Making it the perfect venue for a small, intimate wedding with a difference.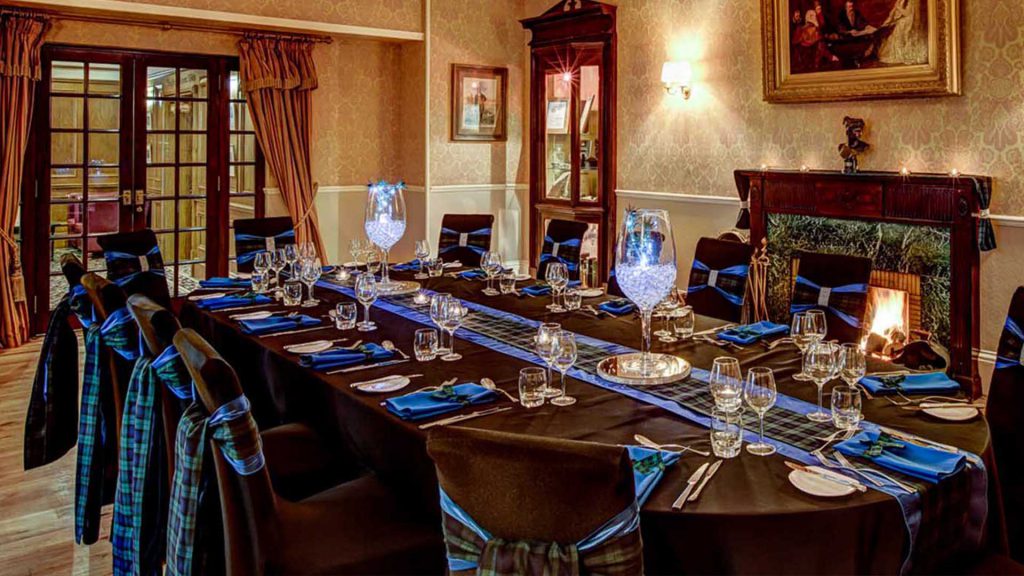 A Relaxed, Laid-Back Atmosphere
We welcome couples that break the rules. Don't want matching stationery? Fine. Would rather a wedding cocktail than a glass of bubbly? Excellent. The best thing about your wedding is that you are marrying the love of your life. So relax and let our wedding planners help create a beautiful day with your favourite people.
Couples can choose to get married anywhere within our beautiful grounds before retiring to this special venue.
Historic Features
The room preserves many original features from its construction in the late 1700s. Including an intricate stucco ceiling and old fashioned baroque fireplace, which both add a delightful atmosphere to this unique space. Famous Scottish poet Robert Burns enjoyed a meal of his own in this very room during the late 18th century. So you will be in great company as his romantic sentiments still fill the room.
Romantic Setting
Enjoying a small wedding at The Kingsmills in Inverness means you and your guests can spend the whole weekend experiencing our picturesque surroundings. Reliving those special moments again and again. There's no need to return to reality too quickly either. Extend the celebrations with indulgent spa treatments or whisky tasting sessions that will make your wedding an unforgettable weekend.
FIND OUT MORE
Please see below for more technical details and specifications and please don't hesitate to get in touch with any questions.
Make a wedding enquiry
At the Kingsmills Hotel in Inverness, we offer a range of luxury venues, wedding packages and accommodation options to suit all celebrations. Call us on +44 (0) 1463 257 102 or send us an email for more information.
Enquire now