Inverness Castle
Inverness Castle sits high on a hill, overlooking the city. There has been a castle on this site since 1057, however the current red sandstone building dates from 1836. Through turbulent times, the structure on the hilltop has been destroyed and rebuilt many times. With a rich history, the site has links with Robert the Bruce, Mary Queen of Scots and Bonnie Prince Charlie. The castle has been used as a prison and a courthouse. Today, it is one of the city's most iconic landmarks. Currently closed for a major refurbishment, the all-new Inverness Castle Experience is due to open in 2025.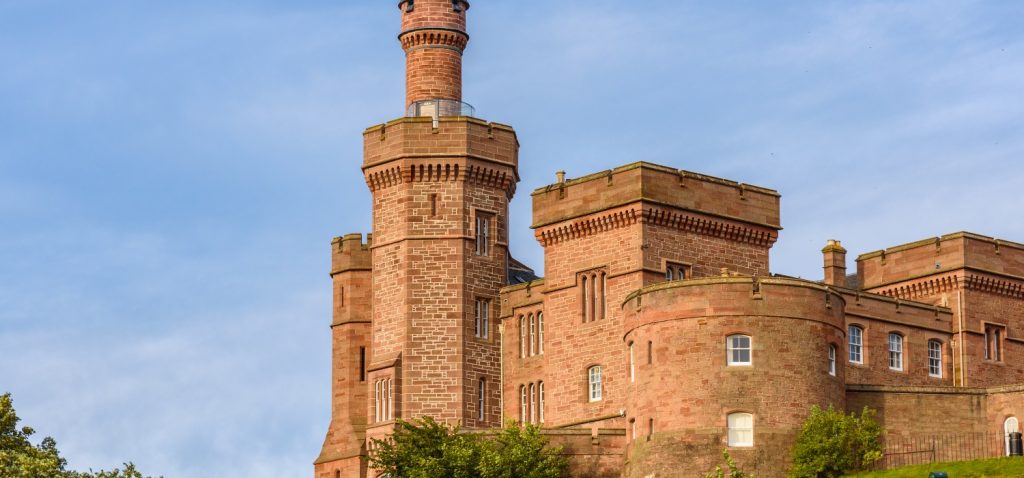 Inverness Castle Experience
Opening in 2025
The Inverness Castle Experience is an exciting new attraction, due to open in 2025. The visitor experience will tell the stories of the Highlands through displays, exhibitions and immersive shows. Stunning digital installations will delight and amaze. Wander through the relaxing Gaelic-inspired gardens. Take in spectacular views from the rooftop terrace. Admire the beautiful rose window, moved from a former church in the city. There will be a Highland music bar, a restaurant, a bespoke dining experience, a gift shop and so much more. We can't wait to visit this incredible new attraction when it opens its doors. Keep up to date with the latest news here and watch the video below for more information…
Inverness Castle Experience www.invernesscastle.scot from High Life Highland on Vimeo.
Must-see attractions in Inverness
The Inverness Castle Experience has made it onto our list of Inverness must-see attractions. The long-awaited attraction opens in 2025 and is set to be an epic adventure! The history of the Highlands will be brought to life through spectacular displays, installations and interactive experiences. All celebrating the culture and heritage of our magical part of Scotland. It will be the perfect day out for guests staying with us at the Kingsmills Hotel, only a 15-minute walk away. So check out our list of must-see attractions in Inverness and start planning your Highland activities with us.
Enjoy a history break in Inverness
After a day immersing yourself in Scottish history, head back to our hotel to put your feet up. Enjoy a delicious Scottish meal in one of our two restaurants and then sample one of our most famous exports in our Whisky Bar. Get in touch below to choose your perfect room or give our friendly team a call on +44 (0) 1463 257 100 for more information.
Get in touch