Inverness Castle
If you're looking to explore some of the most dramatic castles in Scotland, then Inverness Castle is one of the must-see tourist attractions in Inverness. Perched on a cliff overlooking the beautiful River Ness, in Scotland, the red sandstone structure is the exceptional work of a few nineteenth-century architects.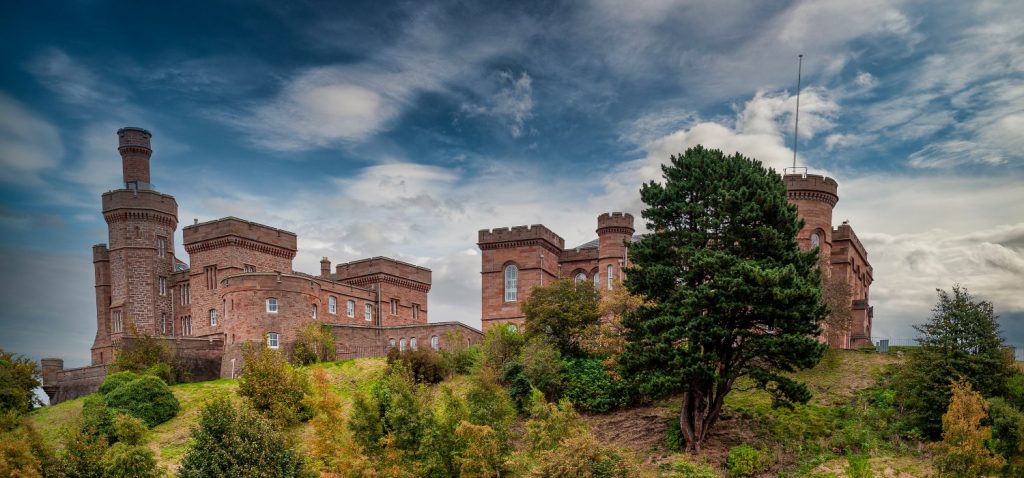 Tourist attractions in Inverness
The peaceful Ness River surrounds this beautiful landmark. Centrally located, the glorious castle in Scotland offers visitors amazing views over the hills in the West and the sea to the north of Inverness. Capture the spirit of the Highlands by ticking off one of the best tourist attractions in Inverness. Although the main castle building is not open to the public, visitors can see the exhibition and enjoy breathtaking 360-degree views of the Highland Capital and the surrounding scenery at the castle viewpoint.
Castle History
Did you know that there is a myriad of intriguing myths and legends associated with the castle? Visit Inverness to discover the battles which took place here, including soldiers who fought over cheese.
King Malcolm II first established the site of the modern castle. He built a stronghold here in 1057 after destroying Macbeth's castle at Crown Hill. The great reforming King David I granted Inverness its status as a royal burgh in the first half of the 12th century.
Furthermore, Shakespeare's Macbeth also features Inverness Castle. The play uses Inverness Castle as the site of Macbeth's murder of King Duncan. So, to learn more about Inverness Castle's rich history, look no further than this enchanting destination.
Where to find Inverness Castle
There are signposts for the castle around the city of Inverness. By using the postcode IV2 3DU, the castle is easily accessed by drivers. In addition, there's pedestrian access from High Street to the east end of Ness Bridge.
Finally, Inverness has so much to offer when it comes to tourist attractions in Scotland. Explore Scottish history and exceptional hospitality at The Kingsmills.
Enjoy a history break in Inverness
After a day immersing yourself in Scottish history, head back to our hotel to put your feet up. Enjoy a delicious Scottish meal in one of our two restaurants and then sample one of our most famous exports in our Whisky Bar. Get in touch below to choose your perfect room or give our friendly team a call on +44 (0) 1463 257 100 for more information.
Get in touch