Urquhart Castle by Loch Ness
Urquhart Castle
The ruins of Urquhart Castle will captivate visitors with its intriguing history. Boasting half a million visitors each year, the castle is one of the most popular in Scotland. With its triangular promontory, thick stone walls and dramatic tower, Urquhart Castle is a must when it comes to discovering things to do in Inverness.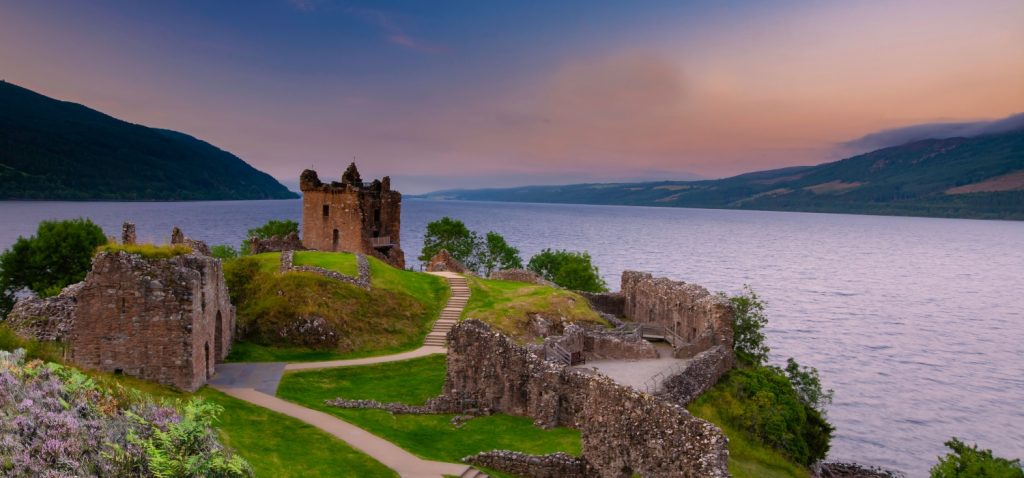 One of the most visited castles in Scotland
Situated on a headland with breathtaking views of Loch Ness, this iconic castle in Scotland has a fascinating, rich history. Moreover, it sits on top of ruins of which many famous names have set foot. Edward I invaded the castle in 1296. The Lords of the Isles then seized the castle on various occasions in the later Middle Ages.
Later, in the 1300s, Urquhart featured prominently in the Scots' struggle for independence. As a consequence, the castle came under the control of Robert the Bruce after he became King of Scots in 1306. In 1332, in the dark days following Robert I's death, Urquhart was the only Highland castle to hold out against the English.
Things to do near Loch Ness
Did you know that Urquhart Castle is one of the largest of its kind in Scotland? Built in the mid to 16th century, its large tower was a replacement for the previous tower. Originally, the tower was five storeys tall, with all the storeys still visible. However, the south wall collapsed during a great storm in 1715. Remarkably, some of its internal structure is still maintained.
Those looking out beyond the remaining tower will be able to take in gorgeous views of Loch Ness and beyond. So, if you're a fan of historic ruins and beautiful scenery, this is one of the best places to visit near Loch Ness.
Where to find Urquhart Castle
Accessed at Drumnadrochit, near Inverness, the romantic ruins are found using the postcode IV63 6XJ. An iconic landmark with enchanting surroundings, this will enchant visitors with some of the most dramatic chapters in Inverness' history.
Finally, Inverness has so much to offer when it comes to tourist attractions in Scotland. Explore Scottish history and exceptional hospitality at The Kingsmills.
Enjoy a history break in Inverness
After a day immersing yourself in Scottish history, head back to our hotel to put your feet up. Enjoy a delicious Scottish meal in one of our two restaurants and then sample one of our most famous exports in our Whisky Bar. Get in touch below to choose your perfect room or give our friendly team a call on +44 (0) 1463 257 100 for more information.
Get in touch