Driving and cycling in the Highlands this winter
Scottish Highlands: winter driving and cycling
The Scottish Highlands is very accessible and easy to travel around in the winter. However, it's important to stay safe when moving around our roads. So whether you're travelling by bike, car or any other vehicle, here's our guide to winter driving and cycling in the Scottish Highlands…
Winter weather in Scotland
Generally, the climate in Scotland is mild. In winter, the average temperature in Inverness is 3°C, mainly ranging between 0°C and 6°C. We do, of course, get wind and rain, and ice and snow. But mostly, the snow falls on the mountain tops, which creates a beautiful picture-postcard scene. We also enjoy many clear days in the winter, when the air is crisp and the sun shines brightly. What's important to remember is that conditions can change suddenly. It may be sunny in the morning, but rainy in the afternoon. So you should be prepared for all weathers. Check the weather forecast before you leave for the day, and don't forget your raincoat! In addition, keep an eye out for any weather warnings and always follow the travel advice.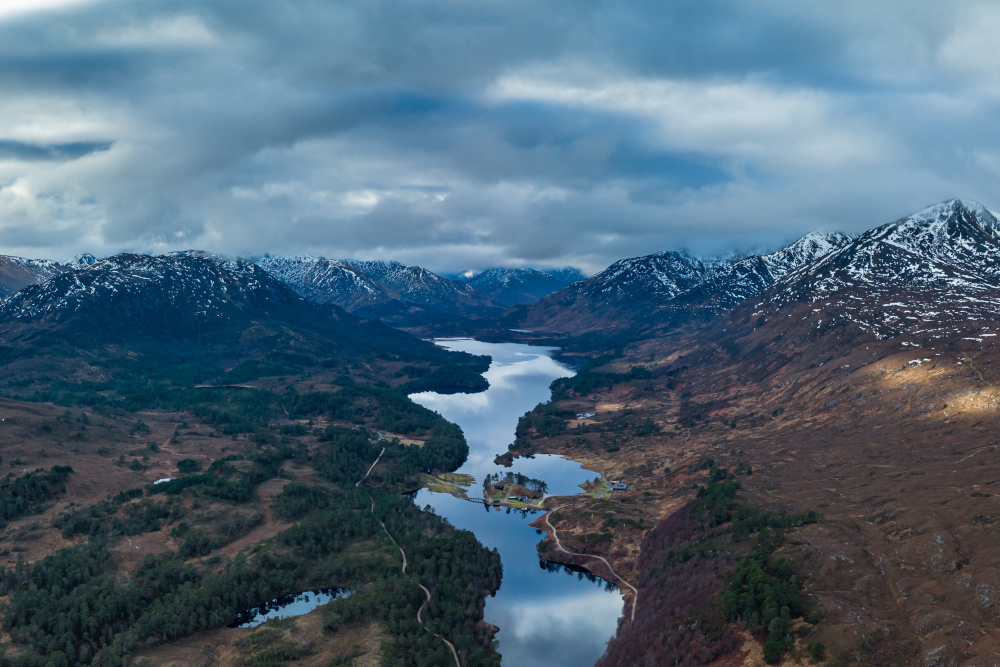 Winter driving conditions
The roads in the Highlands are often narrow and winding, and single-track in places. Winter weather can affect driving conditions, so it's important that you feel comfortable driving on these roads in rain, sleet, snow, ice, fog and high winds. It's also darker in the evenings, so you need to be ok with driving in the dark. Traffic Scotland has lots of guidance here for driving in winter conditions.
Fitting winter tyres
We would recommend using winter tyres, not just in the Highlands but all around the UK between October and March. Winter tyres cost only a little more than summer tyres, but they are a game-changer! If you are hiring a car, you can often request winter tyres on your booking. Specially designed for winter conditions, they have better grip and traction and can reduce your stopping distance significantly.
Emergency car kit
Make sure you take an ice scraper, de-icer and shovel in the car with you. It's also a good idea to prepare an emergency kit with a torch, spare batteries, portable phone charger, blanket, warm clothes, high-vis jacket, jump start cables, empty fuel can, first aid kit, road map, food and water. This is essential for all times of year, not just winter, as is breakdown cover for bigger emergencies.
Bikes and motorbikes
For those travelling by bike or motorbike, make sure you have the right clothing. Layers will keep you warm, and good gloves and footwear too. It's vital that you have the correct safety equipment, such as a helmet and lights. You must be highly visible, especially in the dark winter evenings. Ensure your bike is in good road-worthy condition and check your tyres. You can find further advice from Traffic Scotland on winter cycling and motorcycle riding.
At the Kingsmills Hotel
Here at the Kingsmills Hotel in Inverness, we have a large car park with plenty of complimentary spaces for guests. We also have four EV chargers. There are car hire and bike hire options available locally, making it easy to get around. For those who prefer, there are excellent public transport links to Inverness.
However you decide to travel this winter, always plan ahead and stay safe. We look forward to welcoming you to the Kingsmills Hotel. Explore our other winter blogs here and start planning your adventures.