Spooky Places to visit in Inverness this Halloween
Haunted Inverness
Set in the heart of the Highlands, Inverness has long enjoyed a history of bloody battles and horrific histories. Also known as the key to the north, this pivotal part of the Scottish Highlands has seen plenty of gruesome conflicts. So with Halloween looming, we thought it only fitting to take a look at some of Inverness' most haunted places …
Inverness Castle
Where better to start our journey into the paranormal than with a haunted castle? While the current red sandstone fortress of Inverness Castle is fairly modern, many ancient castles stood before it. The first of which was built in the mid-eleventh century for King Macbeth. This is where Shakespeare's Macbeth is said to have murdered Duncan. The simple castle was later replaced in the reign of King David I. Then destroyed by Robert the Bruce, and in turn rebuilt in the 1400s. From there it enjoyed a brief besieging during the 1562 civil war. Then was blown up by the forces that defeated Bonnie Prince Charlie's army at the Battle of Culloden. With such a battle-weary past, is it any wonder King Duncan's ghost is said to haunt the riverside beneath the castle?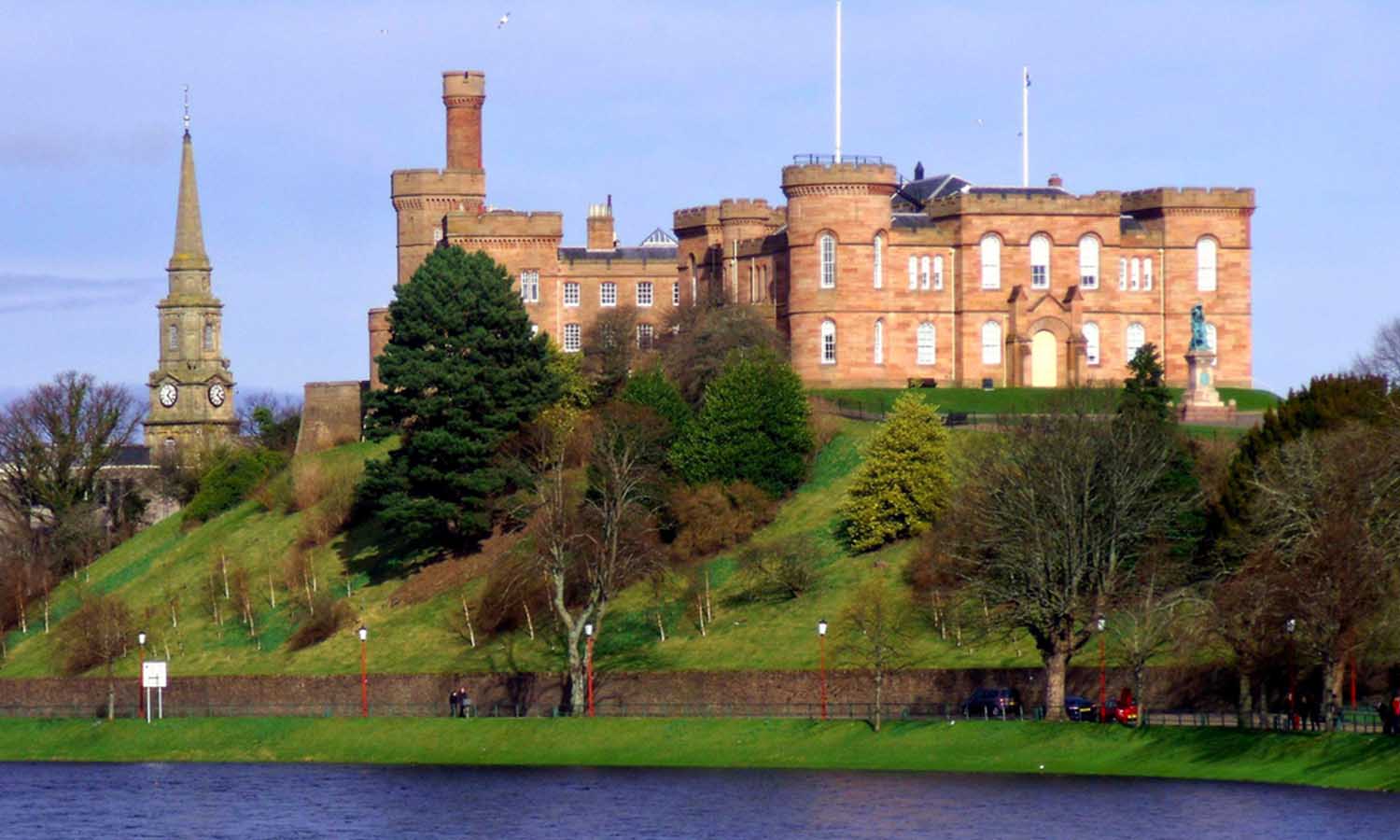 Eden Court Theatre
Built in 1976, Eden Court Theatre is a beacon for anyone looking to embark on some cultural recreation. But in addition to its show-stopping theatres and cinemas, it is also home to a wee ghost or two. The Green Lady is known throughout Inverness and is arguably the most seen spirit. The ghost of a young girl has also been spotted on numerous occasions. The team at Eden Court have put together their own blog about the ghosts that haunt the theatre, so check it out for more information.
Culloden Battlefield
The bloody Battle of Culloden in 1746 has turned this bleak moor into one of Inverness' best-known haunted places. In a battle that would change the course of Scottish history, thousands of Highlanders were cut down in a gruesome end to the Jacobite rebellion. Today the echoes of soldiers' cries, swords being swung and guns being fired are often heard on Culloden Battlefield. A lonely Highlander is also said to haunt the area, whispering "defeated" to all he encounters.
Ness Islands
A trip to the Ness Islands on an eerie autumn night is fast becoming one of the scariest things to do in Inverness and is home to the annual Ness Islands Halloween Show. But beneath the guise of ghosts and ghouls, a more troublesome mystery lies. The vision of a frightful woman accompanied by the smell of decay caught the attention of the Highland Paranormal Group. After a thorough investigation, the area west of the General's Well bridge on the Bught Park side produced some chilling findings.
Cawdor Castle
Just north of Inverness is a Highland castle with a flare for the dramatic. Cawdor Castle has always had a tenuous relationship with the works of William Shakespeare. In Shakespeare's Macbeth, Macbeth became the Thane of Cawdor and lived in Cawdor Castle. And while many people flock to this historic site every year to see the Bard's fictional home for Macbeth, there is another story lurking among Cawdor Castle's ancient walls. One that bears a tragic resemblance to Shakespeare's star-crossed lovers.
One of the ghosts thought to be haunting Cawdor Castle is Muriel Calder, daughter of the Earl of Calder. Legend has it, this wayward lass fell in love with a rival chieftain's son. But when her father discovered their tryst, he chased her up the highest tower in a murderous pursuit. Trying to escape her father's wrath, she lowered herself out a window, where her merciless father chopped off her hands and sent her to her death. To this day the figure of a handless woman in a blue dress is said to haunt the tower.
Blackfriars Graveyard
Back in 1233, a Dominican priory was founded in Inverness by the Black Friars. In 1542, at the time of the Reformation, the priory was dissolved, and all that was left of the ancient site was a solitary pillar and stone carving of a knight. In 1935, a smart new Telephone Exchange was constructed in Friars Lane, right by the Blackfriars Graveyard. It is here where numerous sightings of a figure clad all in black has been seen walking among the graveyard by exchange staff.
Avoid any nightmares
So if you happen to be on the look out for haunted things to do in Inverness this Halloween, we recommend you proceed with care. Otherwise play it safe with a wee dram at the Kingsmills' Whisky Bar and a boo-tiful dinner in the Conservatory Restaurant. Who knows, we may regale you with a haunted tale or two of our own. After an evening exploring the paranormal activities Inverness presents, seek comfort in the safety of one of our luxury rooms where a calm nights sleep is guaranteed. We have a fantastic range of special offers that are scarily good!