Every Love Story is Beautiful, But Yours is Our Favourite
Meeting that special someone and planning the rest of your lives as a couple will mean that you want to have the wedding of your dreams. Plan an experience which will leave you and your guests with unique and lasting memories. What better way to create those moments than having a luxury Scottish wedding. After all, beautiful and memorable experiences are those that are ephemeral, unique and impossible to repeat. Therefore, what better way to wow your guests than an invitation to your Scottish luxury wedding in the beautiful Scottish Highlands. And we have just the ticket to provide the perfect setting for your special day.
The Kingsmills Hotel is the top wedding hotel in the Highlands, here to make your Scottish wedding spectacular. Read on for our "Top 5 things that will make your Highland wedding spectacular"…
1. Gardens Weddings & Special Romantic Wedding Themes
"Our al fresco garden weddings are extremely popular wedding settings." says our lovely wedding planner Rebecca Milton. "Saying "I Do" in our stunning hotel gardens, beautifully landscaped
with patio areas for drinks receptions afterwards, cannot be surpassed."
With four acres of landscaped gardens at Kingsmills Hotel, you're spoilt when choosing the perfect setting for your garden wedding. In the summer, colourful, fragrant blooms provide natural decorations for your ceremony, and you can have the complete ceremony outside.
Alternatively, why not enjoy a glass of prosecco with guests in the garden before celebrating in one of our indoor venues. What's more, if booking before the 6th of November, you can take advantage of our special wedding offer and enjoy complimentary prosecco and canapes for your guests in the garden.
2. Different Wedding Ideas: from Ice Sculptures & Themes to Lone Pipers and Pampering
If you have a special theme or surprise planned for your Scottish wedding, our professional events team and wedding planners can help. Whether you're planning a spring wedding in our beautiful gardens or winter wonderland-themed nuptials, we can help with every detail. From a lone Scottish piper playing the wedding march, to an impressive ice sculpture as a reception centrepiece, we'll help to make your day memorable. We can help you select from our fantastic list of trusted suppliers. Choose candy carts, photo booths, giant 'love' lights and special entertainment experiences.
What's more, we are well known for our delicious dining options specially prepared for you by our head chef. So, you can rest assured to enjoy an amazing meal, prepared with love on your big day. Don't take our word for it… Here's what one of our lovely couples thought:
"Just wanted to say a massive thank you to you all for the amazing service at our wedding. It was completely perfect with not one issue on the day. Everyone loved the food, rooms, service and staff. We have had the best time and we are so glad we chose the Kingsmills for our wedding. All the small details and our room for the night were so special.
So please pass our thanks to everyone who was part of our day and especially to yourself and Vari."
Mr & Mrs Amy & Paul Cadden
3. Flexible Wedding Venues for Parties of Any Size
We offer a range of versatile and luxury Scottish wedding venues to accommodate Highland weddings of any size. From intimate weddings to huge spectacular ceremonies. Become husband and wife in the stunning Adams room, steeped in history and having 17th-century features, including a baroque fireplace. Or, walk down the aisle in the naturally-lit Burns Room, named after the great poet and also a former Kingsmills guest. Alternatively, our spacious Kingsmills Suite offers spectacular setup options, access and furnishings, with views of the gardens. Plus its large dance floor will encourage all your guests to boogie into the "wee sma'" hours.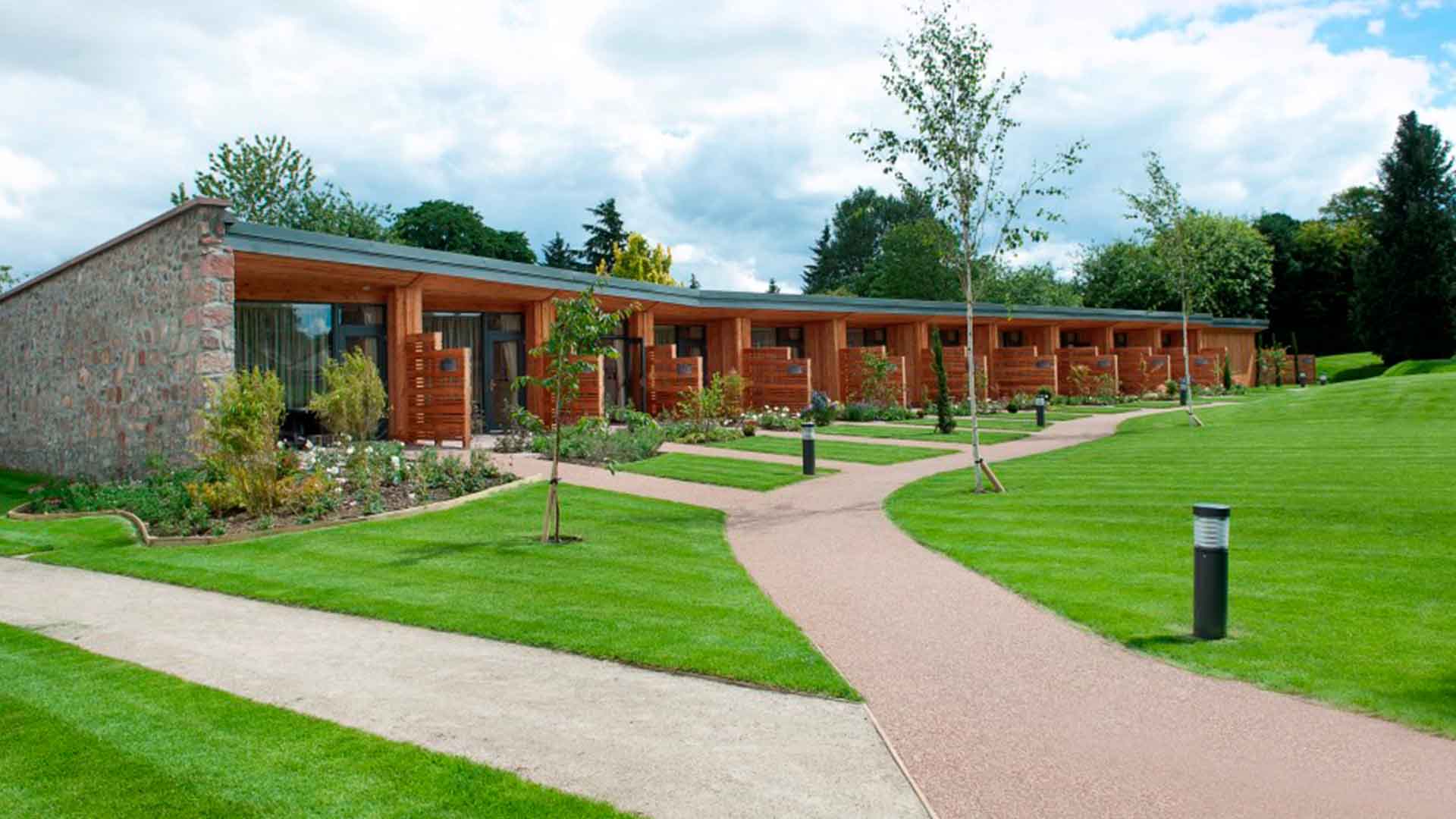 4. Luxury Accommodation & Facilities
Our wide range of beautifully furnished, airy accommodation is great for Scottish weddings of any size. Book a special wedding package and we will look after your friends and family in a choice of rooms. From Family rooms with bunk beds for the kids to Luxury rooms or our exquisite Kingsclub, with balconies overlooking our local Scottish Golf Course.
Looking for your own retreat? You'll be sure to have a good night's sleep in our tranquil Garden Rooms before your big day. In the morning, sit in your scenic Garden room with private outdoor seating area and prepare for the excitement ahead.
Once all your guests are settled in, you can all start the celebrations early with a rehearsal dinner, spa treatments, a dip in our pool, or a round of golf on a links course. What's more, we are family-friendly, with plenty to keep the little ones entertained. Following on from the celebrations, friends and family can spend some quality time together with an extended, relaxing stay at the Kingsmills Hotel.
5. Special Wedding Offers & Packages. Before, During & After Your Wedding in Inverness
Whatever time of year you're planning to hold your Highland wedding, you'll find a variety of special offers to take advantage of at the Kingsmills Hotel. Try before you buy and spoil yourself with a stay with us before your wedding and meet your wedding planner ahead of schedule. Or, save a little, without forfeiting luxury, with our weekday wedding special offer.
Hen Weekends in Scotland, and Stag Golf Breaks
Last but not least, our luxury Inverness hotel is the perfect place for a pampering spa, hen weekend, or stag weekend with golf and whisky tours. We can book you on your very own private tour of the Highlands, with cruises on Loch Ness and boutique shopping experiences.
(Or why not) Additionally, you could combine your wedding with a Scottish honeymoon and extend your stay? Then, you could explore the stunning Highlands, go shopping in Inverness, visit historic castles, or hike in the Cairngorm Mountains.
Speak with us today and start making your dreams a reality.