Getting married over the festive season
Magical Christmas and New Year Weddings
Are you planning a wedding over the festive season? Weddings that take place over Christmas and New Year can be especially magical. Dark evenings and soft twinkling lights create a romantic atmosphere. Your guests are likely to have some time off work for the festive period and hopefully, they'll be in good spirits and ready to celebrate. 'Tis the season to be jolly, after all! Here at the Kingsmills Hotel in Inverness, we love hosting weddings with a touch of festive sparkle. So here are a few ideas to help you plan the perfect celebration…
Candles, fairy lights and Christmas decorations
One of the great things about this time of year is that public places already tend to be decorated for Christmas. Our hotel Christmas tree and decorations will, of course, be up in the reception and lounge. So take the theme and run with it, adding plenty of sparkle and candlelight to your table decorations.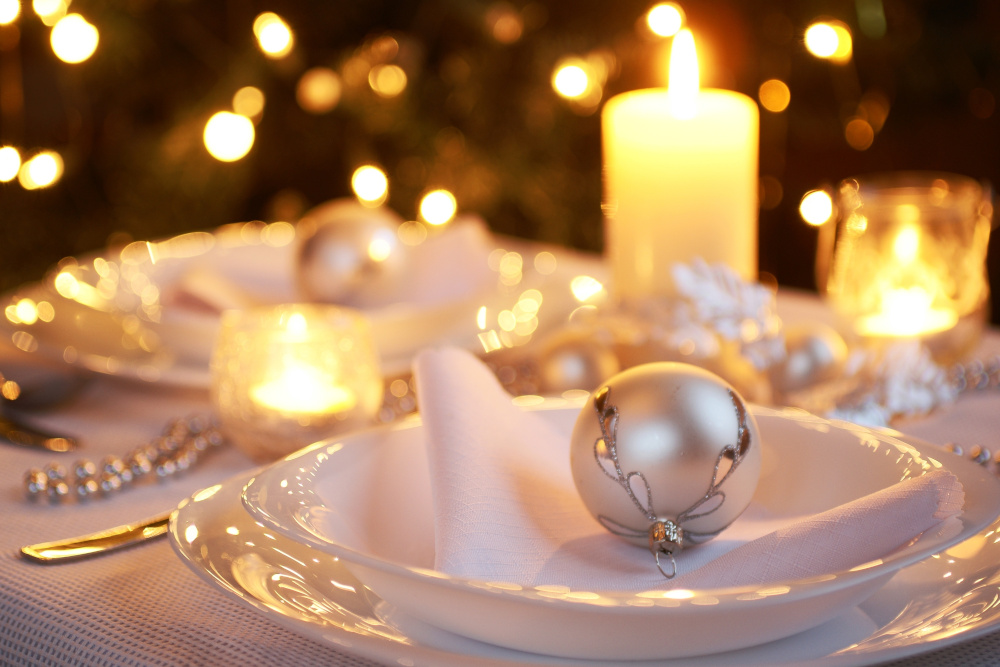 Festive colour schemes
There are lots of beautiful colour schemes inspired by the season. Red and green is a wonderful traditional choice. Red tartan works particularly well. How about a frosty blue and white? Or perhaps a touch of gold and silver?
Glitter, sparkles and metallics
If you love a bit of sparkle, you can go all out with your outfits. Choose a glittering wedding gown, metallic ties and cravats for the groom and groomsmen, sparkly dresses for the bridesmaids. You could even have a glitz and glam dress code for the wedding guests.
Festive florals
Talk to your florist about using seasonal blooms, berries and pine cones in your wedding flowers. Large festive wreaths and garlands make beautiful decorations. Matching festive floral motifs can be used on your invitations and wedding stationery.
Christmas-themed tables
When putting together the table plan, consider having a Christmas theme for your table names. For example your favourite Christmas movies, songs or books. You could create some fun table centrepieces to follow this theme.
Festive treats and favours
Sweet treats such as candy canes make lovely wedding favours with a Christmas theme. You could also hire a sweet cart filled with seasonal goodies. Everyone loves chocolate coins, gingerbread men and mince pies in December. Or how about a huge Christmas cake for your wedding cake?
Photobooth with festive props
If you're hiring a photobooth for the reception, why not order a selection of festive-themed props? From reindeer ears to Santa hats, your guests will have great fun dressing up!
Festive tunes on the dance floor
And finally, what could be better than dancing the night away to some of the best festive hits around? Ask your band or DJ for their suggestions. Don't forget to pick a fitting romantic festive song for your first dance.
If you're looking for a beautiful Scottish wedding venue, we'd love to show you around the Kingsmills Hotel in Inverness. We can create a magical winter wonderland for your big day! To start making plans, take a look at our choice of Inverness wedding venues, our handy wedding planning checklist and list of local wedding suppliers. Then contact us here to arrange a look around!