Burns Room for large Meetings and Events
Burns Room
Large Conference and Events Room
The Burns Room is a large conference and events room, seating up to 100 guests for business events and up to 70 for a private dinner. Named after the renowned Scottish poet Robert Burns, who was once a guest at the mansion house that later became The Kingsmills Hotel. Whilst Burns dined in the smaller Adams Room, we felt this inspirational events space deserved to bear his name.
The Burns Room is decorated in a contemporary fusion of modern and traditional elements. Placing an emphasis on creating an impressive functional space. This is an extremely elegant room with abundant natural lighting, intricate 18th century ceiling and many other period features. In a nod to the great bard himself, wallpaper from Scottish textiles brand Timorous Beasties creates a really striking venue.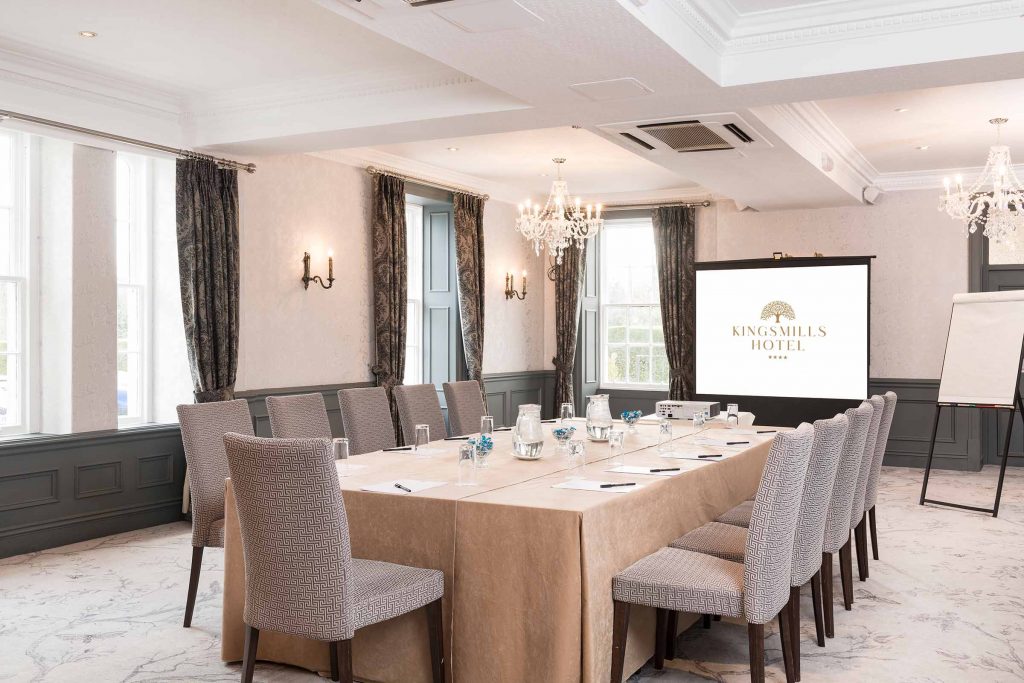 A Versatile Event Venue
The Burns Room is a very popular venue for business meetings and events as it holds up to 100 guests. It is also a versatile space for large parties, company gatherings and sports club dinners. Thanks to its charming atmosphere and complete flexibility.
The Burns Room also has direct access to our car park. Allowing you to give your guests a warm welcome into your own private space. We can provide an array of fresh, seasonal treats to create a truly memorable event. Your guests also have the option of enjoying an immersive experience with an overnight stay in one of our sumptuous rooms, including use of our extensive leisure facilities. Before heading back to reality the following day.
FIND OUT MORE
Please see below for more technical details and specifications and don't hesitate to get in touch with us by calling 01463 257102 if you have any questions.