Cawdor Castle
If you're searching for things to do in Nairn, then Cawdor Castle is a five-star visitor attraction. This medieval castle dates back to at least the 14th century. Known as a tower-house castle, it was built as a private fortress by the Thanes of Cawdor. Steeped in fascinating history, this glorious castle is immortalised in Shakespeare's Macbeth. Moreover, its iron yet gate and immaculate walled gardens have likened Cawdor Castle to one from a fairytale.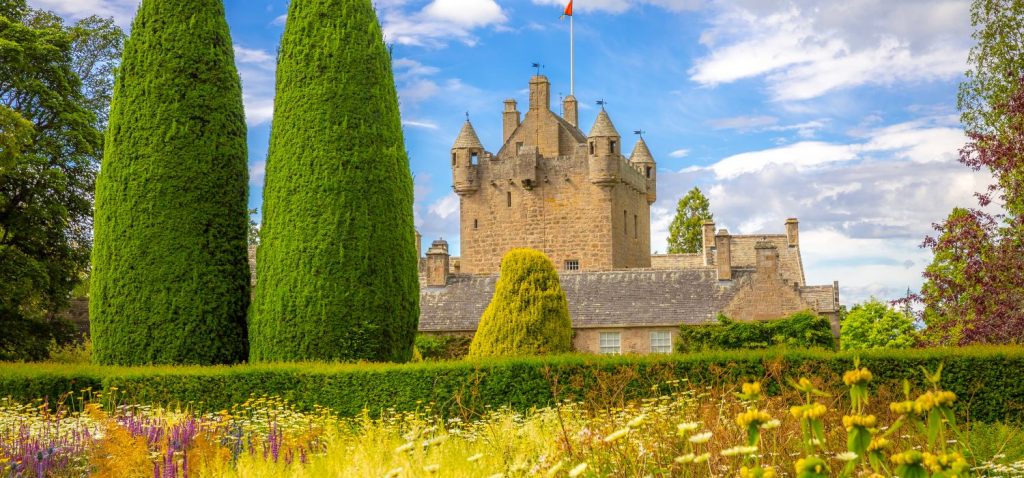 Visit beautiful castles in Scotland
Situated five miles south from Nairn, Inverness-shire, Cawdor Castle is a fantastic visitor site for all the family. Little ones will love getting lost in the maze of this castle. Interestingly, this is still the ancestral home of the Cawdor family.
Unlike most castles, Cawdor Castle was never attacked in all its 700 years and is still almost in pristine condition. Its well-manicured grounds encompass three beautiful gardens, including the Cawdor Big Wood and a 9-hole golf course. In addition, the tourist spot has a host of visitor shops as well as a restaurant and cafe.
Things to do in Nairn
When looking for things to do in Nairn, this building is one of Scotland's most magical castles. Visitors can explore 12 principal rooms of this unique home. Each contains breathtaking collections of Rare Tapestries, Fine Art, Furniture, Ceramics and Sculpture spanning 3,500 years.
Cawdor Castle has hosted tourists from as early as 1773 when Dr Simon Johnson and James Boswell were in awe of Cawdor's old trees, in 1787 Scotland's National Bard; Robert Burns visited on his Tour of the highlands. Consequently, it remains one of the most popular places to visit in Nairn to this day.
Where to find Cawdor Castle
Situated just 7 miles from Inverness Airport, this Nairn attraction is magnificent, medieval gem. Visits here will be sure to provide a memorable experience for all. Also, the grounds and nature trails are open for exploration.
Finally, Inverness-shire has so much to offer when it comes to tourist attractions in Scotland. Explore Scottish history and exceptional hospitality at The Kingsmills.
Enjoy a history break in Inverness-shire
After a day immersing yourself in Scottish history, head back to our hotel to put your feet up. Enjoy a delicious Scottish meal in one of our two restaurants and then sample one of our most famous exports in our Whisky Bar. Get in touch below to choose your perfect room or give our friendly team a call on +44 (0) 1463 257 100 for more information.
Get in touch