Wedding Open Day 2023
Save the Date…
Sunday 26th March 2023 | 12pm – 3pm
As the crisp Scottish air begins to turn warmer and the flowers begin to bloom, we at the Kingsmills Hotel in Inverness are filled with anticipation and excitement for our upcoming pop-in event – our take on the traditional wedding open day.
We cannot wait to welcome couples from near and far to explore our luxurious property and experience the magic and romance of a Kingsmills wedding. From the grand entrance to the intimate lounge area, every corner of our venue has been designed with love and attention to detail, and we cannot wait to share it with prospective couples.
Our talented partners have been carefully curating table decorations, which will adorn the venue, creating a picturesque setting that is fit for royalty. The elegant Kingsmills Suite, with its high ceilings and sparkling chandelier, will be the perfect space to host a grand wedding celebration, while the cozy lounge area will provide a more intimate setting for an evening of laughter and joy.

The Kingsmills team are dedicated to making your wedding day dreams come true. From the initial enquiry, you will be cosseted in a warm welcome and guided through the exciting process of organising your special day.
As we prepare for this magical day, we cannot wait to share the beauty and elegance of the Kingsmills Hotel with all our visitors. It will be a day filled with love, joy, and enchantment, and we cannot wait to create memories that will last a lifetime.
Make an afternoon of it…
We are delighted to announce our meet-the-venue wedding open day on Sunday 26th March to coincide with the Highland Wedding Fair on the banks of the River Ness, Eden Court. After meeting an array of suppliers and wedding experts at Eden Court, pop across to Kingsmills to discover our wedding venue, meet our team and make introductions to a select number of recommended suppliers to help you design your #OnePerfectDay.
Trusted partners to bring your dreams to life…
We understand that every couple's vision for their wedding day is unique and special, which is why we carefully select a range of exceptional suppliers who can bring each couple's dream to life.
Our trusted suppliers have been chosen for their talent, professionalism, and attention to detail, and they are dedicated to creating a flawless and memorable experience for our guests. From the stunning table arrangements to the personal touches, our suppliers are passionate about their craft and committed to making every detail of the day perfect.
Join us and meet our selected partners
Black Isle Love Lights
Black Isle Love Lights is a wedding supplier that creates bespoke illuminated letters and symbols for hire, adding a unique and personal touch to any wedding celebration. Their stunning designs can be customized to match any theme or color scheme, creating a memorable and romantic atmosphere that will be cherished forever. Visit Page.
Highland Luv Dubs
VW Campervan Hire that adds a touch of vintage charm to any wedding day. Their beautifully restored Volkswagen campervan makes a stunning backdrop for photographs, and their friendly and professional service ensures that every couple has a unique and unforgettable experience. Visit Page.
Cupcake Creations
We are delighted to have Cupcake Creations as one of our trusted wedding cake suppliers at the Kingsmills Hotel. Their attention to detail and passion for creating beautiful and delicious cakes is evident in every creation they make. Their stunning designs and unique flavours will leave a lasting impression on our couples and their guests. Visit Website.
The Entertainment Experience
A dynamic wedding supplier that offers a wide range of entertainment options, including music and DJ services. Their professional team works with couples to create a custom entertainment experience that perfectly matches their vision, ensuring that the dance floor is always lively and unforgettable. Visit Website
Glynis Woodhead – Celebrant
A highly respected and experienced wedding celebrant, based in Scotland. With a warm and personable approach, Glynis takes the time to understand each couple's unique story, and creates bespoke ceremonies that reflect their personalities and beliefs. Her attention to detail and passion for her work make her a highly sought-after celebrant. Visit Website
Captivating Photography
Captivating Photography has a unique ability to capture the essence of every special moment on the big day. With an eye for detail and a passion for storytelling, Charne's stunning photography captures the emotions and memories that make each wedding unique, creating timeless images that will be treasured for a lifetime. Visit Page.
La Di Da Fashion
La Di Da is a wedding supplier based in Inverness that offers an extensive range of occasion wear, including dresses, shoes, and accessories. They provide a personalised and friendly service to help bridesmaids, and mothers of the bride or groom find their perfect outfit. Their collection features both contemporary and classic styles. Visit Website.
Charlotte Smith Bridal
Charlotte Smith Bridal is a wedding supplier based in Inverness that specialises in providing stunning bridal gowns and accessories. They have a wide range of dresses from various renowned designers and offer personalised fittings to ensure each bride finds her perfect dress. They also offer bridal accessories such as veils, headpieces, and jewelery. Visit Website.
PartyParty Balloons
PartyParty Balloons in Inverness is a trusted wedding supplier offering a wide variety of balloon arrangements to suit any wedding theme. They provide bespoke designs and can create stunning balloon arches, centrepieces, and bouquets to add a unique touch to your special day. Their friendly and professional service ensures an stress-free experience. Visit Website.
Eva's Covers
Eva's Covers is a wedding venue styling supplier in Inverness, offering a range of styling accessories to transform any space into a stunning and elegant wedding venue. From chair covers to tablecloths, her products are designed to match various wedding themes and enhance the overall aesthetic of the event.. Visit Website.
Flowers by Lee
Flowers by Lee is a reputable wedding floristry supplier based in Inverness, offering bespoke floral arrangements that add beauty and elegance to any wedding event. They creates stunning floral designs using the freshest blooms available, from bouquets to centerpieces, all tailored to meet individual preferences and wedding styles. Visit Website.
QS Digital
QS Digital is an Inverness-based wedding supplier that provides professional videography services to capture all the special moments of your big day. Quentin uses the latest equipment and techniques to produce stunning images and videos that will last a lifetime. Visit Page.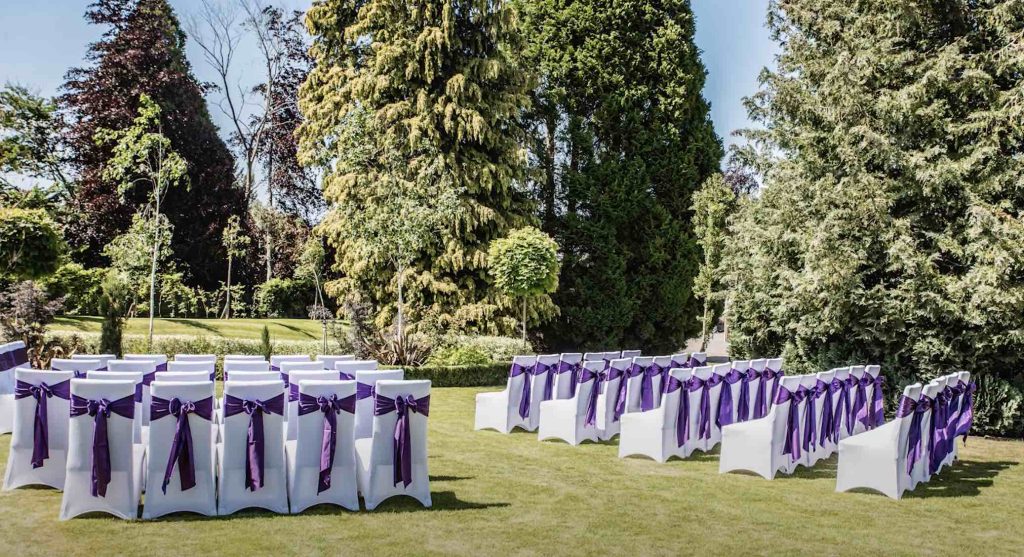 Join Us
There is no need to reserve a space at our upcoming Wedding Open Day. However, you can register your interest below by signing up to our Wedding Newsletter and we will keep you updated on the big day and all things Kingsmills weddings!