Following In The Footsteps Of Inverness' Famous Citizens
Famous People from Inverness
Our city has a rich history and many stories to tell. So here, we're taking a look at some of the most famous people (and another monster celebrity!) from Inverness …
John Fraser: A Rose By Any Other Name
John Fraser was a Botanist and Plant Hunter born in Inverness in 1750. As strange as that may sound today, it was a real and sought-after profession in his day. After moving to London, his love for botany blossomed. Then in 1780, he embarked on his first voyage to North America to collect rare and beautiful plant species. It wasn't long until his reputation earned him the position of Botanical Collector by the Czar of Russia. Today he is remembered at the fascinating Scottish Plant Hunter's Garden in Pitlochry, around 85 miles south of Inverness.
Sir Murdoch Macdonald: On Track To Fame And Fortune
Civil engineer and politician, Sir Murdoch Macdonald, joined the Highland Railway as a young lad and went on to work as an engineer on the Black Isle Railway. He spent time in Egypt from 1898 to 1921, where he worked on the Aswan Dam and advised on the defence of the Suez Canal. In 1922, he was elected as a Member of Parliament for Inverness and served until 1950. A firm believer in Nessie, he successfully persuaded the Scottish Secretary of State to issue an order to protect the monster. He died in 1957, while designing the Ness Bridge in Inverness. His bust is on display in Inverness Town House.
Jessie Kesson: Writing Her Own Story
Jessie Kesson was born in an Inverness workhouse in 1916 and went on to domestic service, before becoming an acclaimed writer. Her works were inspired by her early experiences in Scotland. She wrote several novels including The White Bird Passes in 1958 and Another Time, Another Place in 1983, along with over 100 radio plays. She also worked as a radio producer, producing the BBC's Woman's Hour. In the 1980s the Universities of Dundee and Aberdeen recognised her contribution to Scottish literature with honorary doctorates. Every year, the Moniack Mhor Writers' Centre in Beauly awards one writer the Jessie Kesson Fellowship, named in honour of her inspirational life and work.
Karen Gillian: Just What The Doctor Ordered
Born in 1987 in Inverness, Karen Gillian shot to fame as the famous Dr Who's assistant. In her early career, she worked as a model and appeared in a number of television roles. Before securing her place as the faithful sidekick to the world's favourite Doctor. Now she's a Hollywood star. Appearing as in movies such as Guardians of the Galaxy and The Avengers as well as performing on Broadway.
Laura Muir: Racing ahead
Laura Muir is a champion middle-distance runner, born in Inverness in 1993. Specialising in the 800, 1500, 3000 and 5000 metres. She has competed in several European and world championships, including the Olympic Games and Commonwealth Games. And she is the 1500m British female world-record holder. Currently training for the upcoming Tokyo Olympics, we'll all be cheering her on.
Nessie: Another Monster Celebrity
Without a doubt, the Loch Ness Monster is Inverness' biggest celebrity. The famous beast was first spotted in 565 AD when a "water beast" attacked one of St Columba's followers in the loch. But it was the 1930s when the Nessie legend really took off and she has been beckoning monster hunters to Loch Ness ever since. Find out more about Inverness' biggest celebrity at the Loch Ness Centre and Exhibition in Drumnadrochit or look out for Nessie on a Loch Ness Cruise.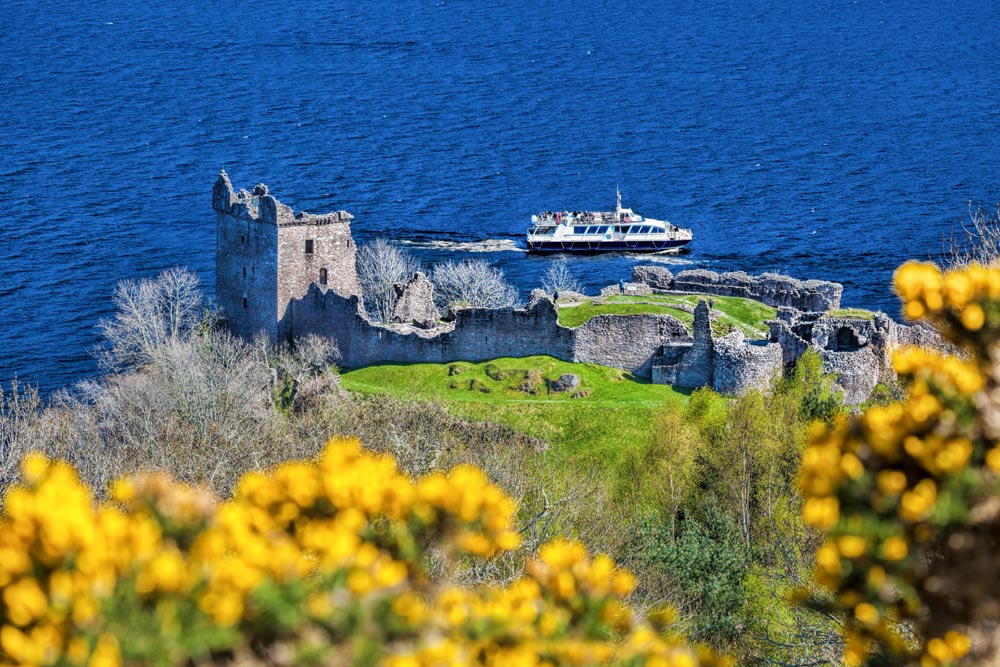 Follow in the footsteps of these famous Invernessians with a visit to our stunning Highland capital. Take a look at our hotel special offers and start planning your Inverness adventure today.