Stars in their Eyes Inverness
Announcing Inverness's latest entertainment spectacular – Stars in their Eyes! The Kingsmills Hotel team are delighted to be launching a new showbiz-entertainment fundraiser in aid of SNAP – Special Needs Action Project Inverness.
Hosted by Nicola McAlley, the evening is set to be one to remember with dazzling contestants taking to the stage, with a makeover that is set to make the audience starstruck. This is your chance to be crowned Stars In Their Eyes Inverness 2023 champion! All while raising vital funds for the amazing local charity, SNAP.
Who is participating?
Applications to be part of the show have now closed and we are working behind the scenes to pull the show together… our acts are waiting in the wings, ready to be announced as our STARS. And, of course we won't find out until the very moment the lights dim and the show begins who their favourite artist is!
Sign up below to be first to hear about who has been selected for participation in our inaugural Stars in their Eyes show!
The show…
We are taking inspiration from the hit TV show from the 90's-00's where guests of the show are transformed into their favourite stars. We will be hosting a fabulous evening of dining with the big unveil beginning after dinner… when the lights will dim and the show will begin! Introduced by a pre-recorded video, we will hear a little about our stars and their fundraising efforts. Emerging from backstage, tonight, audience, they are going to be… their favourite artist!
The big reveal – who is it going to be?! Will our acts be throwing it back to the 80's with a Cher wig? Or dressing up and channeling their inner Shirley Bassey. Perhaps the crowd will be 'dancing in the dark' as we see a transformation into Bruce Springsteen?!
Menu
Our Executive Chef, Geoff Malmedy, is curating a menu with seasonal highlights. Utilising the finest of ingredients and culinary skill to deliver a showstopping 3 courses!
Menu to be released soon!
Corporate Sponsors
We have openings for several corporate sponsors to join us on the evening, helping us to raise as much as we can for SNAP, our charity partner for this event. Interested in becoming a sponsor? Contact us by email or call Angus, Kingsmills Group Marketing Manager, on 01463 257143.
Tickets
Tickets will be on sale here, soon after our stars are announced. Tickets will be priced at £60 per guest and includes dinner and admission.
Register an interest to receive the first invitation to book tickets.
SNAP Inverness – our charity partner
A key theme in all of SNAP's activities, this event aims to have FUN at its heart with a focus on showcasing creativity, laughter and confidence… and what better way can we replicate this than to host a showbiz fundraiser extravaganza!
SNAP is a voluntary organisation based in Inverness providing vital support to children and young adults with learning disabilities and other complex additional support needs spanning from the age of 5 to 19 and beyond. SNAP runs a wide variety of supported activities which provide fun social experiences, encouraging independence and helping build self-esteem and confidence.
Charity No; SCO24792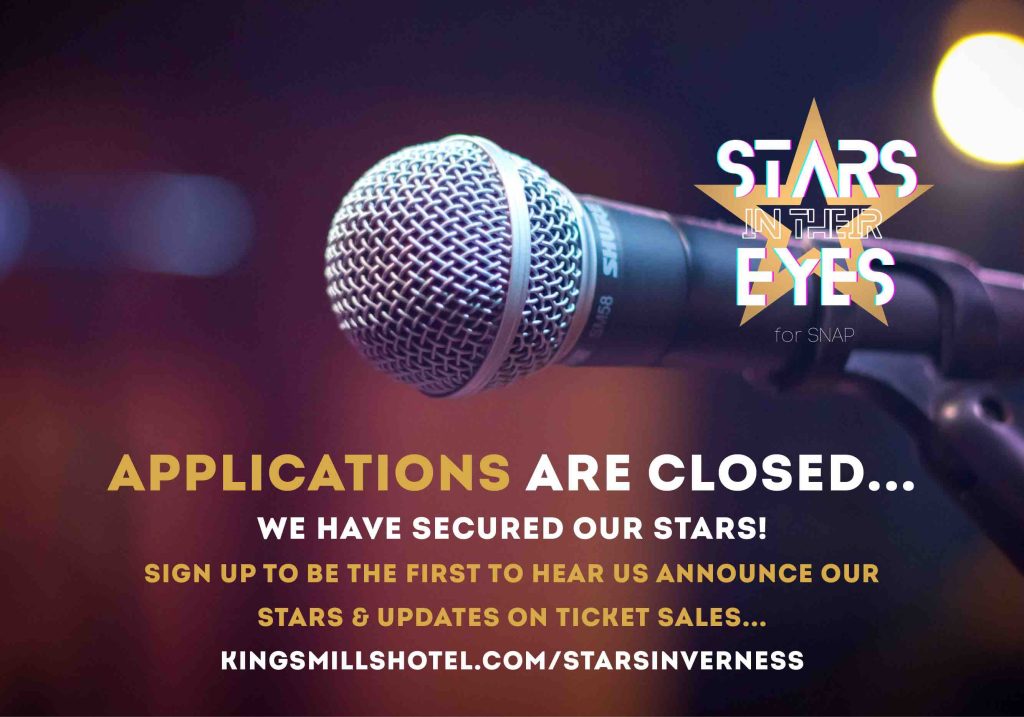 Apply for Stars in their Eyes Inverness 2023
Would you like to join us on the event or become a corporate sponsor, please call 01463 257 102 or get in touch.
Get in touch