Highland Holiday Highlights – Top Museums in Inverness
Image title "The Battle of Culloden" is licensed under Public Domain via Commons.
Are you someone who buries themselves deep in literature, watches classic films and has a refined appreciation of the arts? Or maybe you simply just enjoy some cultural tantalisation and learning at your own leisure. Well if you do, and you are planning a stay in Inverness, then find out where to visit in order to engage that critical eye!
Immerse yourself in Highland history and learn about people, the environment and traditions in exciting stories from the past. Exhibits include many items under the categories of geology, archaeological heritage and natural history surrounding the Highlands of the past. From Jacobite memorabilia, Silverware from Inverness and Highland bagpipes and weapons, you will be sure to leave thinking you were in an episode of Outlander!
Situated at the foot of the Castle hill, you can also engage and listen to recitals and lunchtime talks – making for a very educational stay in Inverness.
If ye dinnae ken whit tae dae next … then why no pop alang tae the Highlander's Museum? With over 20,000 artefacts and around 10,000 photographs and documents, you can loose yourself in fascinating facts and information. With one of the largest regimental displays outside of London, one minute you are in the Battle of Waterloo and the next you're in the middle of WW2 (Adolph Hitler's box that held his personal papers is one of the artefacts to be seen here).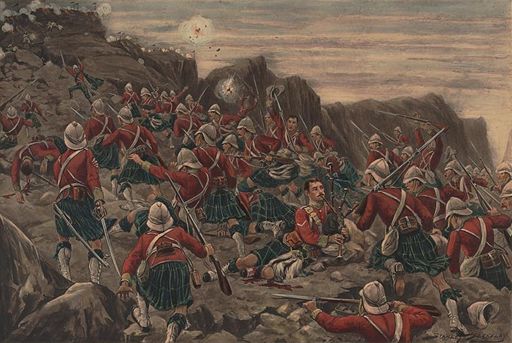 Image title Change of the Gordons by Stanley Berkely is licensed under the public domain
Other items in other collections include medals, uniforms and accoutrements, death pennies, pictures and paintings, personal diaries and letters of the past and much more. Submerge yourself in the History of the Highland regiments and step into the lives of people who made history and played significant parts in shaping the world we live in today.
Ok, so are you Goose or Maverick? Whoever you choose, you can fly and nosedive your way to the Highland Aviation Museum next to Inverness airport – how handy! Explore a variety of aircraft and bits of aircraft that you can explore and even climb in …. You're biggest problem of the day is going to be deciding who will enjoy this more. Dad, the kids, mum or maybe gran or grandpa? Whoever it is, you can imagine yourself as the pilot flying a Mach2 or Nimrod MR2, one the world's best surveillance and attack aircrafts, or being a passenger or crew member upon a Herald.
Step inside and be strapped into an injection seat – however tempting it may be but no you are not ejected! Or climb in to a single seat survival dinghy and imagine bobbing up and down on the waves waiting to be rescued! You can also explore a variety of aviation memorabilia and flick through a file of local crashes between 1939 to 1945.
So no matter what part of history you step back into on your stay in Inverness, you will be sure to come away with dearth of fascinating facts and information to wow fellow friends with. If you are looking for somewhere to stay, then check out our Special Offers … we can guarantee you a 'braw' deal and a "barry' stay!