5 Things To Look Forward To This Spring In Inverness
1. Discover The Great OutDores
Returning on the 1st of April, for its second year, is the Loch Ness Garden Party. Set on the sleepy shores of Dores Beach, this intimate club event is sure to hit all the right notes this spring in Inverness. Combining one of the world's most beautiful locations with some of the world's best music, dance the afternoon and night away in the picturesque "outdores" of South Loch Ness.
2. Experience The True "Spirit" Of Scotland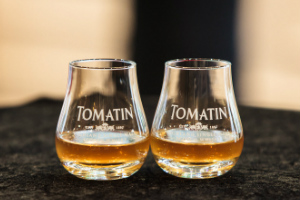 From the 18th until the 22nd of April, Inverness will be playing host to the greatest Whisky and Gin Festival the Scottish Highlands has ever seen (well, until next year when we do it all again). Spread across various venues throughout Inverness, this five-day celebration of Scotland's finest malt whisky and craft gin is the perfect mix of master classes, sensational tastings and so much more. Fabulous Fringe Events will awaken your taste for Scottish whisky and ensure a gin-teresting time, while you master the malt with Masterclasses from some of Scotland's best-loved whisky distilleries.
3. Whatever You Do, Don't Break The Cycle
After quenching your thirst for whisky and gin, what could be better than a 66-mile pedal around Loch Ness? On Sunday the 23rd of April, thousands of cyclists will hit the road from Inverness to Fort Augustus and back again in the annual Etape Loch Ness. With some of the most beautiful scenery in all of Scotland en route, not to mention a few monster hills to climb, the Etape Loch Ness is a much-loved and eagerly anticipated event in spring in Inverness for cyclists and spectators alike.
4. If That Doesn't Get Your Motor Going …
If more traditional modes of transport are more your speed, don't miss the Inverness Classic Vehicle Show on the 13th of May. With classic vehicles from all eras lining the streets of Inverness, this popular (not to mention free) event with fantastic street entertainment and wonderful musicians is definitely one for the calendar.
5. Finally, The Best Part Of Inverness In Spring
In addition to the wonderful events, fabulous activities, long-awaited festivals and blooming Highland wilderness, the best part of Inverness in Spring may just be the simple fact that it is not Inverness in winter. Which means there are so many more wonderful things to do in Inverness, and our fabulous luxury Inverness hotel looks a little something like this …